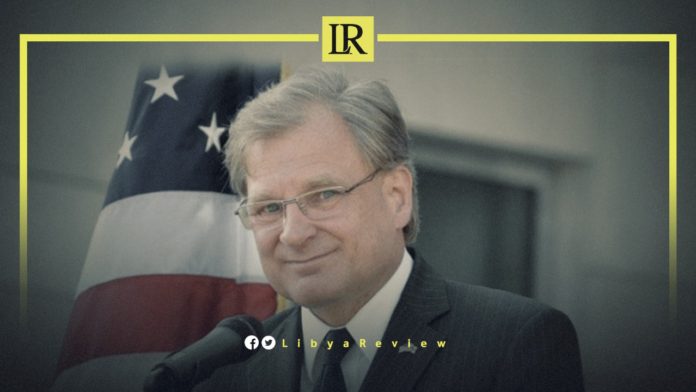 On Tuesday, the US Ambassador to Libya, Richard Norland stated that Washington continues to support efforts to restore momentum for the Presidential and Parliamentary elections in Libya.
In a tweet published by the US Embassy in Libya, Norland said: "I spoke with High Council of State Chairman Khaled El Meshri to convey US support for efforts to restore momentum to presidential and parliamentary elections following the postponement in December."
"For my part, I expressed the United States' support for any process that would give the Libyans the strong, united, sovereign, and elected government they deserve," the US ambassador said.
"El Meshri cited the nearly 3 million Libyans who are ready to cast their votes and described intensified efforts with the House of Representatives to agree promptly on a roadmap that will give the public confidence that elections will take place as soon as possible," the US Ambassador added.
On Monday, Norland spoke with mayors from the Fezzan Municipalities of Bent Baya, Sebha, and Ubari. They shared with him the importance of holding the elections as soon as possible.
The mayors also stressed that the elections are the key to improving the conditions, and quality of life of southern Libya.
The US Ambassador said: "I'm thankful to Sebha Mayor and Head of the Fezzan Municipal Council Al-Sawish Gherbal, Ubari Mayor Ahmed Matko Nino, and Adri Eshati Mayor Ibrahim Al-Ghoul and fully share their view on the importance of elections."
Libya was supposed to hold its Presidential elections on 24 December 2021, in a United Nations-led effort to drag Libya out of its years of conflict. The ballot was delayed indefinitely, after bitter arguments over divisive candidates and a disputed legal framework. The Parliamentary committee overseeing the elections declared holding it "impossible" on the scheduled date.
Libya's High National Elections Commission (HNEC) proposed rescheduling the Presidential elections to 24 January, in coordination with the Libyan Parliament.