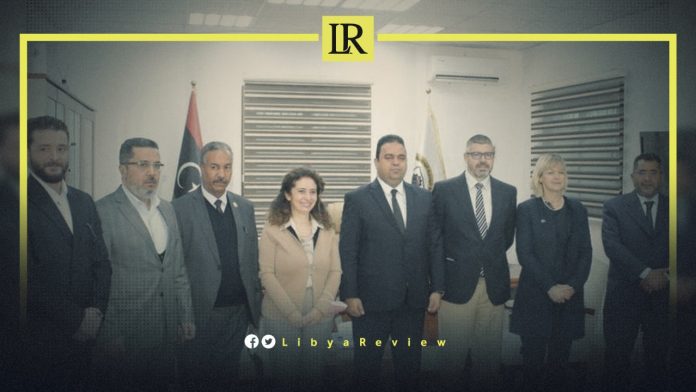 The EU Ambassador to Libya, Jose Sabadell met with the Libyan Minister of Labour and Rehabilitation, Ali Al-Abed Al-Rida. He confirmed that they will work to develop a joint program that will support training and provide qualifications for job seekers in Libya.
Notably, the Libyan Minister of Interior, Major General Khaled Mazen held a meeting with Sabadell in Tripoli on Monday. They discussed a strategy of joint cooperation with the European Union.
The meeting was also attended by Colonel Amunoli, the Head of Security and Counter-Terrorism, and the Political Advisor to the United Nations Support Mission in Libya (UNSMIL). As well as the Director of the Security Planning Department, Major General Jamal Safar, and the Director of Relations and Cooperation Department, Brigadier-General Salah Al-Din Bin Suleiman, his Deputy, Brigadier-General Jalal Howeidi, Head of the Performance Evaluation and Follow-up Office, Brigadier-General Suleiman Al-Baroni, and Colonel Abdel-Jalil Bati, a member of the Central Committee.
This meeting comes as part of a series that Mazen is conducting, in relation to resolving several outstanding issues. The two officials discussed the migration crisis, the security threat it poses, and its repercussions for Libya and the EU.
Mazen confirmed the development of a joint strategy for cooperation with the EU for 2022, regarding security cooperation and joint agreements.
In turn, Sabadell explained that the EU is fully prepared to work according to the joint strategy. He also confirmed his continued support for the Ministry of Interior.
Recently, The Italian Minister of the Interior, Luciana Lamorgese called on the European Union to fulfil the commitments it made to Libya, in terms of the migration crisis.