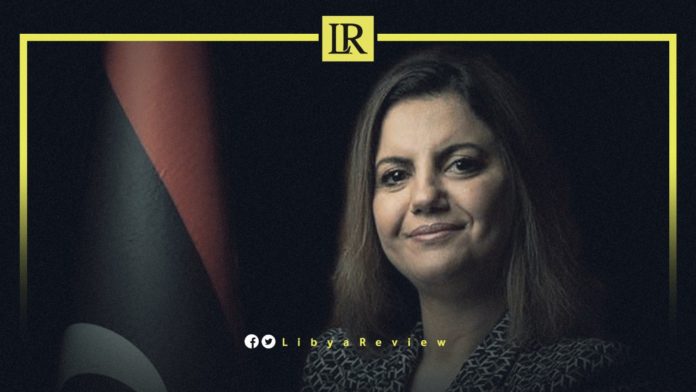 On Saturday, the Libyan Minister of Foreign Affairs, Najla Al-Mangoush, paid an inspection visit to the migrant shelter centre in the Ain Zara area of the capital, Tripoli.
During the visit, Al-Mangoush listened to the demands of migrants and their needs in terms of health care and living. She confirmed that the Government of National Unity (GNU) pays special attention to this file, in a manner that guarantees respect for human rights and the preservation of the dignity of all migrants.
The Minister said that the "illegal" migration file drains Libya's great security and economic resources. She added that this file needs serious international cooperation by humanitarian organisations and neighbouring countries to curb this phenomenon and protect the human and health rights of migrants.
She also discussed the most important challenges with Mohamed Salem Al-Khoja, Head of the Anti-Illegal Migration Authority. These challenges include the programs and mechanisms taken to mitigate the flow of migrants, the ways of caring for those in shelters and taking into account their humanitarian conditions, while ensuring respect for international human rights and humanitarian laws as well as refugee law.
Earlier this month, Libyan security forces raided and violently broke up a sit-in by migrants outside a shuttered United Nations (UN) community centre in Tripoli.
The migrants, including women and children, had camped outside the UN centre in Tripoli since October. They sought protection following a massive crackdown on migrants and demanded better treatment at the hands of the Libyan authorities.
Commenting on the recent crackdown, the Norwegian Refugee Council (NRC) and the International Rescue Committee (IRC) issued a joint statement:
"We are alarmed by the detention of 600 migrants, refugees, and asylum seekers, including women and children, that were camped out in front of the former Community Day Centre in Tripoli. Witnesses have told us they were met with violence this morning, and that makeshift tents were burnt down. This is the culmination of a disastrous situation that has deteriorated over the last few months. Since the mass detention of thousands of migrants, refugees, and asylum seekers in October of last year, the situation for this population in Libya has only got worse."
Libya has been engulfed in conflict since a NATO-backed uprising toppled and killed longtime leader Moammar Gaddafi in 2011. The country has emerged as the dominant transit point for migrants fleeing war and poverty in Africa and the Middle East, hoping for a better life in Europe.
Traffickers have exploited the chaos, and often pack desperate families into ill-equipped rubber or wooden boats that stall and founder along the perilous central Mediterranean route. Thousands have drowned along the way, and thousands have been intercepted and returned to Libya.