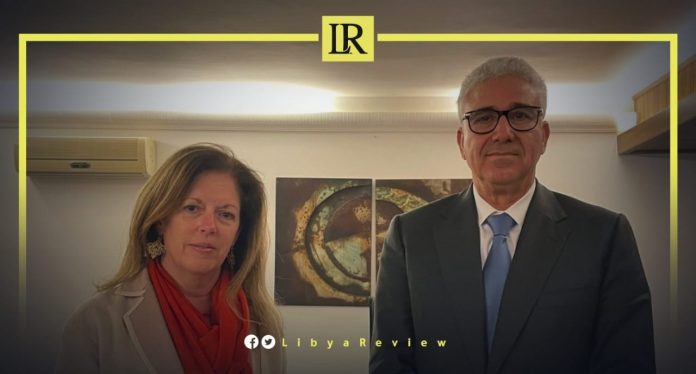 On Sunday, the United Nations (UN) Special Adviser on Libya, Stephanie Williams, highlighted the need to go forward in an inclusive, transparent, and consensual manner, and to maintain stability in Tripoli and throughout the entire country.
These remarks came during her meeting with the newly-appointed Prime Minister, Fathi Bashagha, in order to discuss ways to preserve stability in Libya.
The UN adviser added that the focus must continue to be on the holding of "free, fair and inclusive national elections in the shortest possible time."
In turn, Bashagha said his meeting with Williams touched on efforts to form the proposed government "in a transparent and fair manner."
Libya was meant to hold its presidential and parliamentary elections in December. However, arguments between factions on how the elections should take place meant the process collapsed days before the vote.
On Thursday, the Speaker of the Libyan Parliament, Ageela Saleh, announced that they had unanimously appointed Fathi Bashagha as the new Prime Minister. He is set to replace the current Prime Minister of the Government of National Unity (GNU), Abdelhamid Al-Dbaiba.
"The Parliament voted unanimously to give confidence to Fathi Bashagha as the Head of government," parliamentary Spokesman Abdullah Blaiheg said after a session in the eastern city of Tobruk.
The Parliament selected two candidates out of a total of seven: Fathi Bashagha and Khaled Al-Bibass, a former senior official in the same Ministry.
However, in a speech, Al-Dbaiba said that he would not hand over power until after the elections. "Only elections will end the transitional stages," he claimed.
Observers fear that Libya will return to having two opposing governments, given Al-Dbaiba's refusal to cede power to a rival government.
Libya has been engulfed by a political crisis since the fall of long-time leader Moammar Gaddafi's regime in 2011, with rivalries between the main regions, power struggles, and foreign interference.