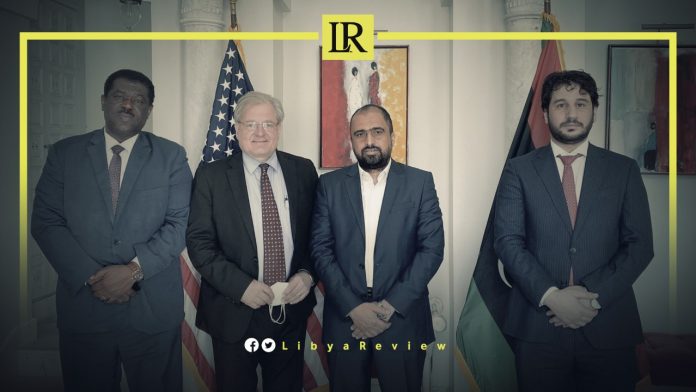 The US Ambassador to Libya, Richard Norland met with Members of the Libyan Parliament from the Fezzan region in Tunisia.
According to a tweet by the US Embassy in Libya, Norland said: "HoR members from the Fezzan, Mahdi Massoud La'war, Abu Salah Shalabi, and Misbah Douma honored me with a visit to Tunis on Feb. 12 where they shared their vision for Fezzan's role in Libya's future and the need for Libya to hold elections as soon as possible to ensure the will of 2.8 million Libyans is respected."
He added that they discussed important proposals for reforming laws, to ensure the success of the electoral process. "We agreed that timely elections represent the best path toward a secure, unified, and prosperous Libya."
"As Libyan institutions make determinations as to the immediate future of the country's leadership, we continue to urge all Libyan leaders to de-escalate tensions that could lead to violence and not lose sight of the will of the majority of Libyan people who want to choose their leadership in free and fair elections," the Ambassador stressed.
The Head of the High Council of State (HCS), Khaled Al-Mishri voiced his support for the Libyan Parliament's decision to appoint Fathi Bashagha as the new Prime Minister, to replace Abdel-Hamid Dbaiba.
In a televised speech, Al-Mishri said that the vote of confidence in March 2021, stipulated that the Government of National Unity's (GNU) term "should be at the maximum: 24 December 2021."
He added that the appointment of the influential former Minister of the Interior, Fathi Bashagha, was legal and based on, "a consensus between the HCS and the Libyan Parliament."
Al-Mishri accused Dbaiba of "launching a directed campaign against the Parliament and HCS."
Agence France-Presse (AFP) reported that armed groups from Misrata have gathered in Tripoli, to support Dbaiba, who refuses to resign until after elections are held.