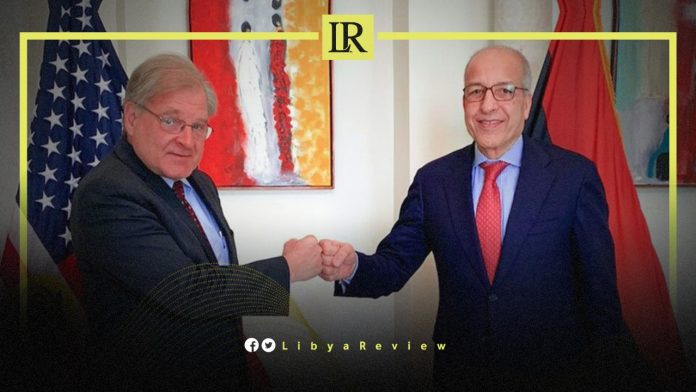 On Monday, US Ambassador to Libya, Richard Norland met with the Governor of the Central Bank of Libya (CBL), Al-Siddiq Al-Kabir in Tunisia.
The two discussed the ongoing progress to reunify the CBL, the US Embassy in Libya said in a statement. It added that the US Ambassador welcomed the Governor's commitment to complete the reunification of the bank.
"US ambassador Norland commended Governor Al-Kabir for embracing unity during such a pivotal time, and said he supported the Governor's plans to visit the United States in early March to hold important and timely consultations with senior US officials," the statement added.
The US ambassador also agreed on the, "importance of the independence of sovereign institutions, and the regular payment of salaries and essential expenditures for the benefit of the Libyan people," the statement concluded.
Notably, Al-Kabir and his deputy, Ali Al-Hibri met with officials from the US consulting firm Deloitte, in Tunisia. Sources told 218 TV that they discussed the work of the joint technical committees created by Deloitte, for its financial audit of the CBL.
The two Libyan officials signed an agreement in January 2021 for Deloitte's consulting services, in order to support the economic roadmap, and unification of the CBL.
Last month, Al-Kabir told Reuters that he hoped the first stage of unification could be accomplished by July. Economic divisions have added to Libya's chaos, and resulted in differing exchange rates, liquidity shortages, and ballooning public debts that further hurt Libya's battered economy.
In December, the CBL announced a plan to end the 7-years of division between the eastern and western banks. It said in a statement that the two officials had met in Tunisia, and agreed on a detailed plan to unite the bank.
They discussed the stages of the unification in accordance with the roadmap proposed by the international accounting firm Deloitte, with the completion of the international financial audit review for the Central Bank in July.
"The division complicates access to foreign exchange, impedes monetary reform, and undermines the integrity and oversight of the commercial banks," the UN Support Mission in Libya (UNSMIL) said.
Recently, The US Ambassador to Libya, Richard Norland met with Members of the Libyan Parliament from the Fezzan region in Tunisia.