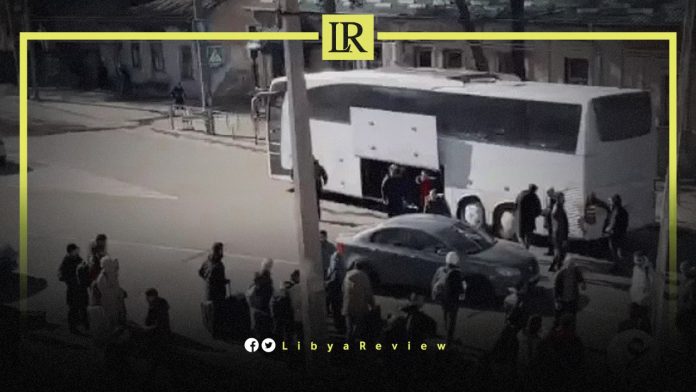 On Tuesday, the Charge d'Affairs of the Libyan Embassy in Ukraine, Adel Bin Issa stated that more than 1,500 Libyan nationals who were stuck in Ukraine, have managed to cross the borders.
"The number of stranded Libyans who crossed the European borders (Slovakia, Poland, and Romania) through the embassy, or on their own until today has exceeded 1,500 citizens, and they are in good health," Bin Issa added.
He announced that the embassy is planning to evacuate a large number of citizens on Wednesday.
On Monday, the Libyan Embassy in Ukraine has been temporarily moved from Kyiv, to the western city of Lviv, near the Polish border.
Bin Issa added that the move was a result of the military operations, and the deterioration of the situation in Kyiv. The step follows other Arab and foreign embassies, "in order to facilitate the provision of the best consular services, and the necessary facilities for our citizens, until the situation stabilizes."
"I will remain at the Embassy in Kyiv until the last Libyan citizen leaves the capital and its suburbs," he said.
Bin Issa announced on Saturday that they have begun the evacuation process of some Libyan families and students.
In press statements, the diplomat said that 200 Libyan citizens who were stuck in the eastern city of Dnipro, close to the Russian border, were successfully transferred to a safe area in Kyiv.
He pointed out that the Embassy provided accommodation, ahead of evacuating them via the border crossing with Slovakia.
Bin Issa also denied news being circulated online that a Libyan student had died during the ongoing military operations.
Last week, the Libyan Foreign Ministry urged all citizens currently in Ukraine, to communicate with members of the repatriation committee in the Embassy in Slovakia. This is to ensure they are registered.
The Embassy called on its citizens residing in Ukraine to communicate with it on the emergency numbers provided, or through its official website for more instructions and advice.
Libya's Foreign Ministry had previously advised citizens residing in Ukraine to leave, and called for those planning to travel to postpone their trips at this time. The Ministry's advice comes against the backdrop of tensions amid Russian advances in the country.