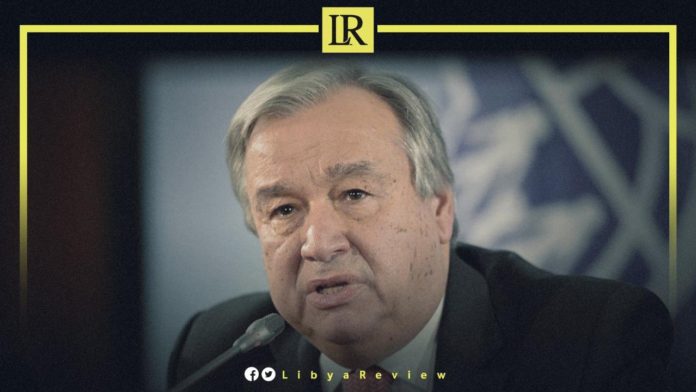 The UN Secretary-General, António Guterres expressed his deep concern at the severe political polarization in Libya, which carries significant risks for the country's stability.
On Saturday, the UN said in a statement that Guterres held a telephone call with the Prime Minister of Libya's Government of National Unity (GNU), Abdel-Hamid Dbaiba on Friday.
Guterres and Dbaiba reportedly discussed the latest developments in Libya. The Secretary-General stressed the need for all actors to preserve calm, and reiterated the UN's firm rejection of the use of violence, intimidation, and hate speech.
Guterres added that the current stalemate required urgent dialogue, to find a consensual way forward. As well as reiterating his full support for mediation efforts, as carried out by his Special Adviser on Libya (SASG), Stephanie Williams.
On Saturday, the newly appointed Minister of Health, Othman Abdel-Jalil held Dbaiba "fully responsible for the assaults and kidnappings, that the ministers of the new government were subjected to during the last few days." He also accused the PM of working to intimidate ministers, and disrupt the political scene, stressing that this would not distract the new government from moving forward in assuming its duties. He noted that it would remain steadfast in its goal of implementing the necessary reforms, to eliminate rampant corruption in the country.
UN Observers fear that Libya will return to having two opposing governments, threatening a resurgence of violence, risking the nation's vital oil sector.
Earlier, Prime Minister-designate, Fathi Bashagha accused the GNU of abusing power, and preventing the new cabinet from performing its duties.
Bashagha sent an official letter to the Attorney General, stating that the GNU has closed the airspace to prevent his new ministers from travelling to the city of Tobruk, to be sworn in before the Libyan
"This is a clear violation of the constitutionally guaranteed right of movement, and an attack on the constitutional and political authorities by preventing them from performing their duties," the letter said.