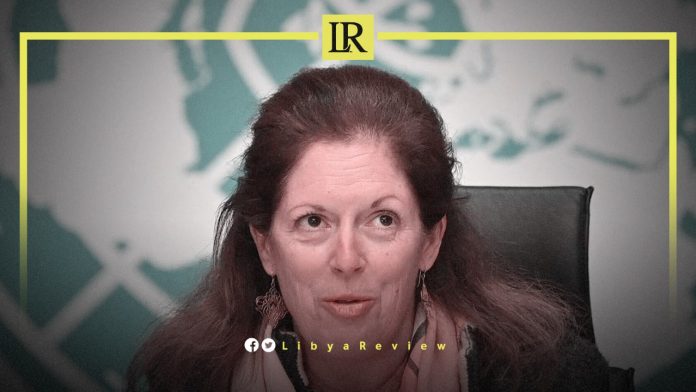 It has been five days since the Prime Minister of Libya's Government of National Unity (GNU), Abdel-Hamid Dbaiba closed Libya's domestic airspace. This was to prevent rival PM, Fathi Bashagha from entering Tripoli. The UN Secretary General's Special Advisor to Libya (SASG), Stephanie Williams has refused to comment or condemn these crimes.
Simultaneously, the Misrata Joint Force militia, which recently received 100 million Libyan Dinars from Dbaiba, has reportedly assassinated a young Libyan blogger on Saturday. This is just days after the group kidnapped three ministers belonging to the new government, as they travelled to their swearing-in ceremony in Tobruk.
Libyan bloggers, lawmakers, academics, politicians and media personnel have all questioned Stephanie Williams' silence.
"I regretfully follow up on the media campaigns targeting efforts to end the state of fragmentation and division in Libya," she tweeted.
Libyan TV host, Khalil Al-Hassi accused Stephanie Williams of using the same language as Libyan politicians saying, "we are used to hearing such statements from our politicians in Libya, but it is worrying to hear you using the same language and attitude, against reasonable questions people are asking".
MP Saeed Imgheib urged the Libyan people to expel the UN advisor. "Oh honourable Libyan people, if you want to keep your homeland stable, you must expel the UN advisor as soon as possible," he stressed.
Member of the High Council of State (HCS), Adel Karmos said that Stephanie Williams's initiative represents a violation of the constitutional amendment, issued by the Libyan Parliament.
Head of the HCS' Road Map Committee, Mohamed Tekala claimed that Williams's proposal contradicts the constitutional amendment, agreed upon by the two legislatures.
Libyan lawmaker, Jalal Al-Shwehdi called on the SASG to respect the 12th constitutional amendment, after successful consultations with the HCS. Especially after failing to achieve similar results during the previous dialogues in Tunis and Geneva.
"Williams came to create obstacles not remove them. This confirms that she has no future in Libya, and the international community launches such initiatives whenever Libyans get close to each other," said MP, Ali Al-Tekbali.
Another MP, Jibril Ouhaida emphasised that the recent proposal by Williams aims to "re-manage the Libyan crisis with foreign hands." Their colleague, Abdel-Moneim Al-Arfi described Williams's initiative as "outdated."