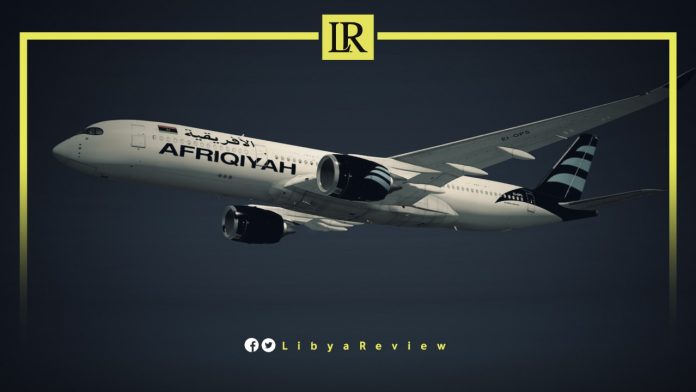 On Saturday, Afriqiyah Airways announced that it will launch the first Umrah flight to Jeddah airport in the Kingdom of Saudi Arabia (KSA) after a two-year hiatus.
In a statement, Afriqiyah Airways confirmed that it launches 14 flights per week from Maitiga International Airport, two flights per week from Misrata Airport, and three flights per week from Benina Airport, while adhering to preventive measures against the COVID-19 virus.
It indicated that it achieved its first goal, which is to provide all possible means for the comfort of Libyan passengers.
Afriqiyah Airways is a state-owned airline based in Tripoli, Libya. Before the 17th of February 2011 revolution, it operated domestic services between Tripoli and Benghazi, and international scheduled services to over 25 countries in Europe, Africa, Asia and the Middle East.
Since the end of the war, it has been seeking to rebuild its business. Afriqiyah Airways' main base is technically Tripoli International Airport.
Libya's Afriqiyah Airways was established in April 2001 and commenced scheduled services on the 1st of December 2001. The name Afriqiyah comes from the Arabic word for African. The airline started with Boeing 737-400 aircraft, but in 2003, an all-Airbus fleet was introduced. The Italian airline Blue Panorama jointly set up the airline with the Libyan government. Afriqiyah Airways is one of the few airlines which does not serve alcoholic beverages on its flights.
The airline generated $120 million in revenue in 2006. Libya's Afriqiyah Airways signed a Memorandum of Understanding (MoU) for the purchase of six Airbus A320s and three Airbus A319s plus an option on five, as well as for three Airbus A330-200s.
The new A320s and A319s entered service on Afriqiyah's growing international network, covering routes from its base at Tripoli to 17 destinations in North, West, and Central Africa and the Middle East, as well as to European destinations such as Paris, Brussels, London, Rome, and Amsterdam.
Afriqiyah's A319s carry 124 passengers in a two-class configuration, while the A320 seats 144 in two class configurations (J16/Y128). The A330s serve the long-distance operations on routes to Southern Africa, Asia and Europe, and have a two-class configuration with 230 seats (J30/Y200). As of 2015 the airline no longer flies to some of these destinations anymore.
On the 20th of August 2009, an Air Afriqiyah aircraft (registration 5A-IAY) – the private aircraft of Colonel Gaddafi – flew to Glasgow Airport to collect Abelbasset al-Megrahi (who had been convicted of the 1988 Lockerbie bombing and released on compassionate grounds by the Cabinet Secretary for Justice in the Scottish Government). He was flown directly from Glasgow to Tripoli.
Three A330s that were delivered in 2009 were used to inaugurate new routes to Dhaka, Johannesburg and Kinshasa. In the winter 2010, two new routes were added to the airline's network – Beijing and Nouakchott.
In mid-October 2010, Afriqiyah Airways and Libyan Airlines (Libya's other state flag carrier) were planned to merge into one airline, and although postponed, the merger is still planned.