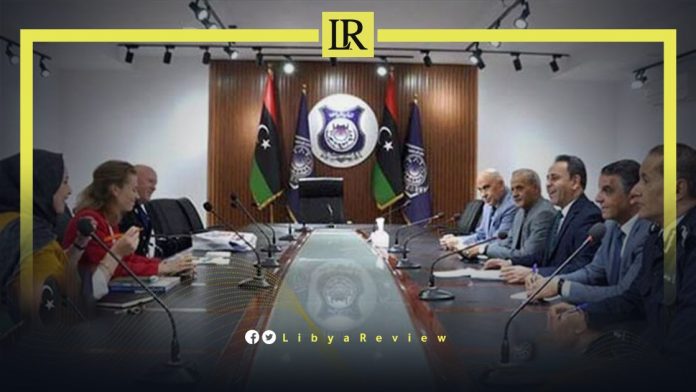 On Monday, Libya Interior Ministry officials met with a delegation from the Dutch Embassy. They discussed ways to enhance cooperation with the Netherlands in various security fields.
The Dutch delegation included Counselor and Deputy Head of Mission, Vivan Hauchen and Regional Security Attaché, Marcelo Nogard.
The two sides discussed cooperation in combating counterfeiting and forgery of official documents, combating narcotics and psychotropic substances, criminal investigations, and criminal laboratories.
The meeting was held at the headquarters of the Relations and Cooperation Department of the Ministry of Interior.
It was attended by the "Director of the Department, Head of the International Cooperation Office, Head of the Protocol Office, Head of the Quality and Performance Development Office, and Head of the European Affairs Department in the Department," according to a statement issued by the ministry.
After the fall of the leader Muammar Gaddafi, forgery of official documents and corruption spread in Libya. The outgoing Prime Minister of the Government of National Unity (GNU), Abdel-Hamid Dbaiba has reportedly forged his university degree.
Libyan human rights activist, Hussam Al-Qamati accused the PM of forging his university degree in order to run in the Presidential elections.
Al-Qamati tweeted that Dbaiba forged his university degree, which the PM claims he obtained in 1990 from the University of Regina in Canada.
"He does not have a university degree. He graduated with a high school in applied engineering from Tripoli. After reviewing the attached certificate, we decided to verify its authenticity and contact the Canadian University of Regina, which denied that Dbaiba had studied there or obtained a university degree from it," he tweeted.
The Presidential Elections Law in Libya, which was issued by the Libyan Parliament stipulates that candidates must have a university degree. The law also says that the candidate must not hold any other nationality.
Notably, the elections which were supposed to be held last year have been postponed indefinitely. This is due to disputes between the conflicting political parties.