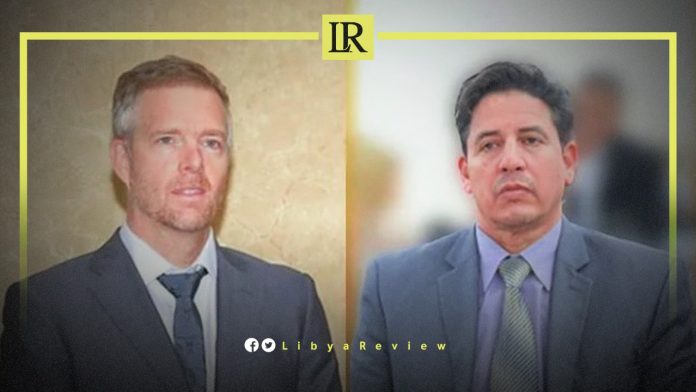 On Thursday, Chairman of the Foreign Affairs Committee of the Libya Parliament, Youssef Al-Agouri discussed with Deputy US Ambassador to Libya, Leslie Ordman the latest developments in the country.
Al-Agouri stressed the need to respect the democratic process, and the role of the Parliament, "which represents the will of the Libyan people to choose a new government headed by Fathi Bashagha. The government appointed by Parliament represents all Libyan parties and will work to prepare for the elections and remove all foreign forces and mercenaries from Libya."
The Libyan MP warned that ignoring the appointment of the new government would lead to "dangerous effects on the democratic path and the peaceful transition of power."
He stressed the need for the UN Adviser in Libya, Stephanie Williams to coordinate with the Parliament's Roadmap Committee, to agree on the constitutional basis for future elections. As well as emphasising the need to listen to all Libyan regions, and give priority for joint action to take care of the south, "which suffers from terrible conditions."
During their virtual meeting, the MP welcomed the continued cooperation with the United States in economy, immigration, and local development. "The two sides exchanged their respective views on various issues of common interest," the Libyan Parliament said in a statement.
In turn, Ordman affirmed his keenness to support stability in Libya, the need for continued coordination, and an exchange of views. He stressed that priority should be given to organising the elections, and preparing the appropriate conditions for their success in accordance with the constitutional rule.
Notably, Williams called on the Libyan Parliament to "respond quickly and positively" to her proposal to form a joint committee with the High Council of State (HCS). This is to set a constitutional basis that would lead to elections as soon as possible.
Williams said Libya's two chambers will hold talks in Tunisia this week to reach a consensual constitutional basis for the upcoming national elections. The Libyan Parliament did not attend the meeting in Tunisia on Tuesday, while the HCS participated.
"Any constitutional amendment must be a purely Libyan decision, which will be focused on through the work of the joint committee between the two chambers," Williams said.
On Thursday, the Libyan Parliament agreed to participate in the dialogue sessions sponsored by the United Nations Mission in Tunisia.
The Parliament affirmed its commitment to the roadmap announced last month, which included the replacement of the Government of National Unity (GNU), with a government headed by Fathi Bashagha.