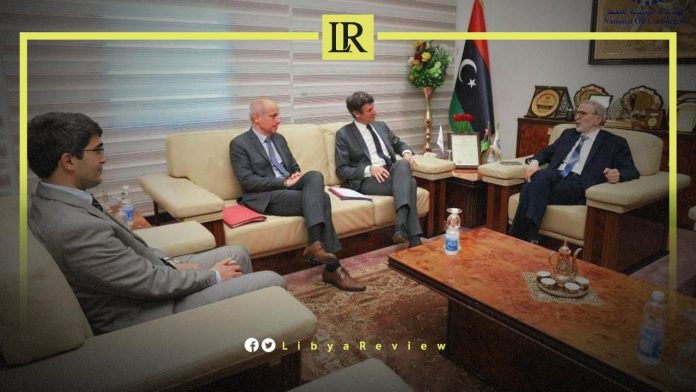 On Thursday, the Chairman of Libya's Oil Corporation (NOC), Mustafa Sanalla received a delegation from France's Total Energies. They discussed strengthening cooperation to increase oil production.
In a statement, the NOC said that the delegation included Total's Regional Director for the Middle East and North Africa, Laurent Pfeiffer, the company's Head in Libya, Pascal Brent, and Manager of Assets Department – Total Libya Branch, Naseem Zouari.
During the meeting, they discussed cooperation to implement a package of important topics, most notably Total's resumption of exploration operations, and the raising of production rates, according to the NOC.
They also discussed the operations at the Al-Jurf field, the corporation's plans to reduce carbon emissions, and ways to benefit from Total's expertise. The meeting also discussed Total's contribution to the introduction of renewable energy technologies to the Libyan oil sector.
The meeting also discussed the latest developments regarding capacity-building programs to train national personnel. This is through the Total Summer School, and a set of other training programs in the sector.
Earlier this month, the NOC and Total discussed ways to increase production of the Waha Oil Company.
Sanalla met with the CEO of Total Energies SE, Patrick Pouyanne during the CERAWeek conference in Houston, USA.
They discussed increasing current production rates of the company, through the rehabilitation of infrastructure, and the development of fields. As well as the return of the Mabrouk field to production by early 2023.
"The NOC strategy to increase gas production from onshore and offshore gas assets was also discussed. An increase in production will respond to the increased demand for gas in the global market," the statement added.
TotalEnergies expressed its interest in contributing to this strategy by holding a technical workshop with the NOC. This is to discuss the technical details of the strategy, and the possibility of participating in its development.
Total has been present in Libya since 1954. In 2018, the group's production in the country averaged 63,000 bpd.