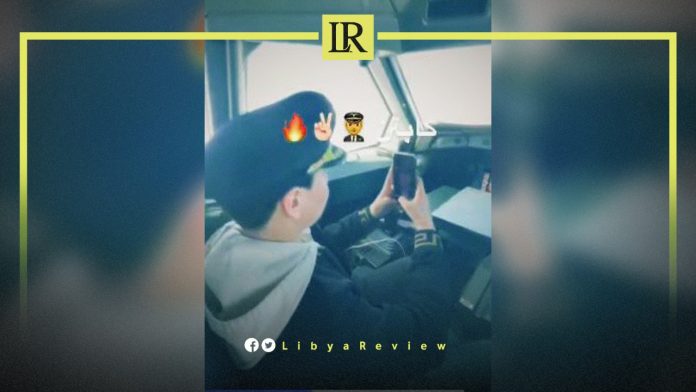 A video has recently circulated on social media, showing the son of the Libyan Minister of Higher Education in the Government of National Unity (GNU), Imran Al-Qib, sitting in the cockpit of a civilian aircraft.
This represents a clear violation of civil aviation laws, and safety standards in flight.
The GNU is headed by Prime Minister, Abdel Hamid Dabaiba, and has been sharply criticized for nepotism, and corruption.
A number of social media activists commented on the video clip, and strongly criticized the event.
"Whoever leads the country violates the law, he and his children, and no one can hold them accountable," a Libyan activist said. "Does this really happen in Libya? Honestly, it's surprising!," another commented.
Dbaiba continues to refuse to handover power to the new government, appointed by the Libyan Parliament.
An investigation was conducted by the Organized Crime and Corruption Reporting Project (OCCRP) and its partners, on the prominent Dbaiba family in Libya. It drew on leaked data from inside Swiss banking giant, Credit Suisse, and discovered previously unknown accounts belonging to Ali Ibrahim Dbaiba, the PM's cousin.
Three other businessmen who benefited from the public contracting system, were involved in the case.
"Billions of dollars given out through public contracts had gone missing. Investigators said the money appeared to have been stolen by the former head of Libya's Organization for the Development of Administrative Centres (ODAC), Ali Ibrahim Dbaiba, and his family," the OCCRP said.
It noted that these clients, all of whom were later implicated in corruption investigations, were involved at all levels of the public construction sector. This ranged from the awarding of contracts, to the ownership of companies that benefited from government spending. One was a Libyan bank in Tunisia, allegedly used in a graft scheme involving letters of credit issued for ODAC contracts.
Last year Dbaiba's brother-in-law and cousin, Abdel-Hamid became Libya's interim Prime Minister. The PM was previously the head of state-owned development contractor LIDCO, which was part of ODAC's contracting system. After Gaddafi's fall, both Dbaiba's were sanctioned for corruption by Libya's new transitional government.
Since assuming the Premiership, Abdel-Hamid reportedly become embroiled in a dispute with the Libyan Parliament over his budget demands for new infrastructure projects.
The Libyan government in 2012 added Ali to a list of sanctioned officials, whose assets should be frozen. The chaos of Libya's civil war meant that this was never properly enforced, and his assets appear to have been left untouched.