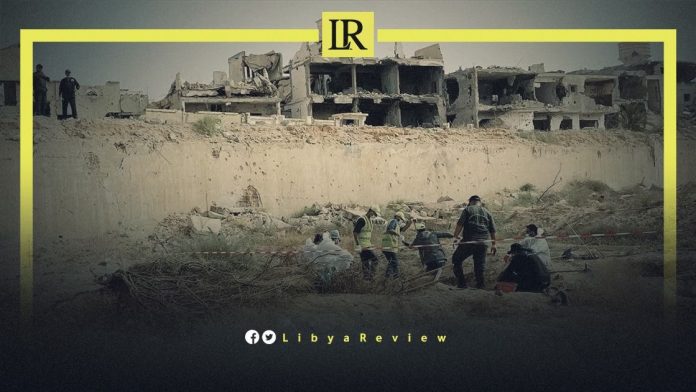 On Thursday, 11 unidentified bodies were found in a mass grave in the Libyan city of Sirte. A team affiliated with the General Authority for Searching and Identifying Missing Persons conducted the search, in coordination with the city's prosecution.
The team transferred the bodies to Ibn Sina Hospital to take bone samples, to transfer to the commission's laboratories. This was in coordination with a forensic medical team, before burying them.
Mayor of Sirte, Mukhtar Al-Madani held a meeting with the team. He affirmed his readiness to aid them in their assigned work in the city.
Fierce battles erupted in Sirte in 2016, before the elimination of IS, which had been in control of the city.
The Head of the UN Fact-Finding Mission on Libya, Mohamed Auajjar said last month that investigators had uncovered further evidence of serious rights violations, which they first made public in October.
"These abuses against migrants, refugees, and asylum seekers are detailed in a report which will be presented to the Council on Wednesday," Auajjar said.
He added that his team's findings include new information on "20 detention facilities, official and unofficial and secret prison networks that are allegedly controlled by armed militia".
Libya is a major transit point for Africans seeking to make the perilous journey to Europe across the Mediterranean. Many instead find themselves enslaved by militias and traffickers, or forced into prostitution.
Several migrants told the UN that there were "mass graves" in the desert city of Bani Walid, with one testifying that he had buried three people himself.