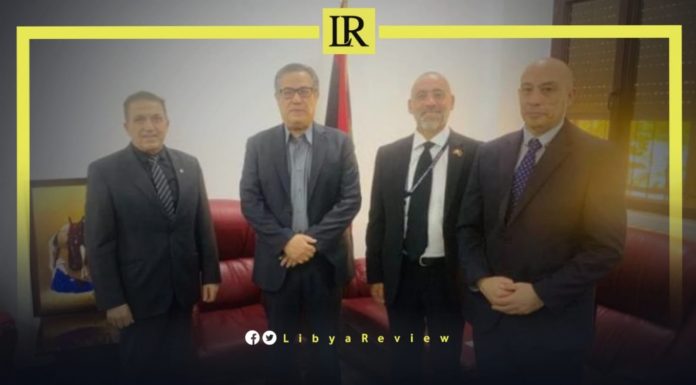 For years, the Libya authorities have been seeking to recover funds linked to the family of late President Moammar Gaddafi, which were frozen in a Maltese bank, before the fall of the former regime in 2011.
The Undersecretary for Consular Affairs at the Ministry of Foreign Affairs, Murad Ehmaima, held a meeting with the Maltese Ambassador in Tripoli, Charles Saliba. They discussed the latest developments in the return of funds frozen in Maltese banks to Libya.
Since the Government of National Unity (GNU), headed by Abdelhamid Al-Dbaiba took power, it has been holding talks with Maltese senior officials on restoring more than €80 million of frozen bank deposits in Bank of Valletta linked to the Gaddafi family.
The Foreign Ministry did not explain the latest arrangements reached by the two parties, but a source told Asharq Al-Awsat that "there is a great understanding about these funds; especially since Al-Dbaiba and his Foreign Minister, Najla Al-Mangoush, had previously discussed this matter with Evarist Bartolo, the Maltese Foreign Minister.
It is believed that these funds belonged to Mutassim, Gaddafi's son, as the Libyan authorities were able to track these funds after 2012. They concluded that Mutassim had kept them in Malta under a company registered in his name. When Mutassim was killed after the outbreak of the February 17th Revolution, credit cards issued by Bank Valletta were found.
Mutassim is Gaddafi's fourth son. He was a senior official in the army and served as the National Security Adviser in Libya from 2008 until 2011. He was killed in the battle of Sirte.
After a series of previous negotiations, Malta said that it would not hand over these funds to Libya until "after the approval of the United Nations (UN), and that it would be received by a unified financial institution."
The value of the total Libyan assets and funds frozen abroad is estimated at $67 billion. Al-Dbaiba had previously accused Belgium of trying to seize the Libyan funds frozen in Malta.
Libyan Attorney General, Al-Siddiq Al-Sour, held talks with his Belgian counterpart in the Belgian capital, Brussels, in February, and discussed the was to return that frozen funds that is estimated at €14 billion.