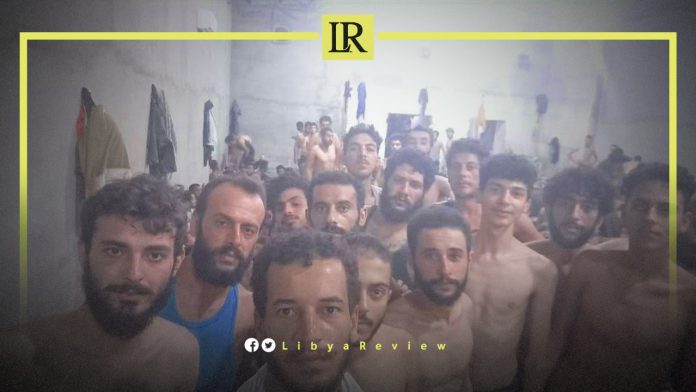 Libya's Government of National Unity (GNU) has detained hundreds of illegal Syrian migrants without trial, as they attempted to reach Europe.
As a result, detainees are vulnerable to extortion by "prison brokers," sources in Libya told Syria Direct.
After being caught, a detainee must pay a sum of money "in order to get an exit document," according to the Head of the Libyan Crimes Watch monitoring organization, Ali Al-Assili. Those who can't pay, are "to stay behind bars, in harsh conditions," he told Syria Direct.
Libya's detention of refugees and migrants comes within the framework of a Memorandum of Understanding with Italy signed in 2017. In February 2020, it was extended for an additional three years.
The agreement stipulates that Italy will help the Libyan Coast Guard stop migrant boats, and return them to Libya. In February, 96 international organizations called for the MoU to be withdrawn, given its disastrous effects, including the mistreatment and extortion of migrants.
In mid-2021, Hassan Abu Ayoub (a pseudonym), left Daraa city in southern Syria for Libya. He hoped to cross the Mediterranean from there, to Europe.
He told Syria Direct that after sailing for 16 hours in international waters, "the Libyan Coast Guard caught me and the 20 young men who were on the same raft."
When Abu Ayoub was caught trying to cross to Italy last year, the GNU's Directorate for Combating Illegal Migration (DCIM) took him to the Ghout Al-Shaal prison in Tripoli. He spent two months there before being transferred to the Bir Al-Ghanam prison southwest of the capital. He spent another month there, before being released.
Al-Assili estimated the number of Syrians detained in Libyan prisons at "more than 400 people, including women and children." They, in turn, are among thousands of other detainees, as in the Al-Maya center near Tripoli. "There are 1,500 detained migrants from several countries, including about 50 children. In Ghout Al-Shaal alone, there are about 3,000 detainees." He stressed that "detainees are beaten with sticks and water cannons, and repeatedly humiliated."
While in Bir Al-Ghanam, Abu Ayoub says he endured difficult conditions, and was constantly "beaten and insulted, for no reason." In the cell where he was held, "the water wasn't clean, and there was one toilet for more than 300 prisoners. I avoided using it until I could no longer stand it."
According to a July 2021 report by Amnesty International, "while DCIM detention centers are nominally under the control of the Ministry of Interior, local militias, some of whose members have been formally integrated into the DCIM. These often effectively remain in charge of or retain influence over individual DCIM centers in the neighbourhoods that they control, with limited central oversight."
In August 2021, the first month 19-year-old Al-Hourani was detained following his failed attempt to reach Europe, he says he witnessed a Syrian detainee being tortured to death in Al-Zawiya prison. The man had "urgently requested the prison administration to take him to the hospital, and instead of responding to him, they beat him to death," he said. His body remained "inside the prison for three days."
"We heard of the death of two others due to medical negligence and torture in Al-Zawiya and Ghout Al-Shaal," Al-Hourani added.
He claimed that he witnessed another incident of torture, this time of a young man from the Daraa countryside town of Dael, "because his family was unable to pay the ransom." Prison personnel "took him to a place, and after they failed to negotiate with his family, threw him off a building. A Libyan person took him to the hospital hours later."