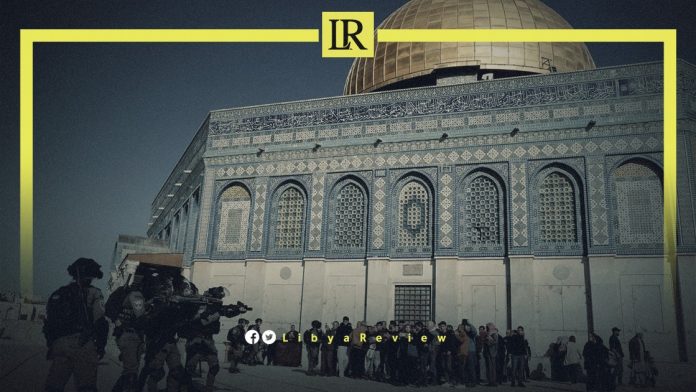 On Saturday, the Libya Ministry of Foreign Affairs and International Cooperation, strongly condemned Israeli forces storming the Al-Aqsa Mosque after Friday prayers midday. It also condemned the violence that ensued against Palestinian worshipers at the holy site, leaving tens injured and others arrested.
In a statement, the Ministry reiterated its rejection of violence and incitement in all its forms, including the calls to storm the holy Al-Aqsa Mosque during the great month of Ramadan. The Libya Ministry warned of the consequences this could have on the stability and security in the Palestinian territories and the region.
It also stressed the need to respect human rights, including the freedom for Muslim worshipers to perform their Islamic rituals in the Al-Aqsa Mosque as an exclusive Islamic endowment for Muslims.
In addition, the Libya foreign Ministry called on the international community, especially the United Nations (UN) Security Council, to play a role in deterring these criminal attacks, which disregard all international resolutions and charters.
It also underscored the need to end illegal Israeli practices that threaten the two-state solution and the establishment of an independent Palestinian state, on the 1967 borders with East Jerusalem as its capital.
Some 60,000 people attended the main Friday prayers midday in Al-Aqsa Mosque, according to the Islamic endowment that administers the site.
Thousands of Palestinians clashed with Israeli police after the Israeli storming of the mosque, the third holiest site for Muslims that stands in the heart of East Jerusalem.
More than 160 Palestinians were injured in clashes with the Israeli police, according to the Associated Press (AP).
Most of the Palestinian injuries were incurred from rubber bullets, stun grenades, and beatings with police batons, the Palestine Red Crescent said in a report.
Israeli security forces have been on high alert after a series of deadly street attacks throughout the country over the past two weeks.
Confrontations at the Al-Aqsa compound in Jerusalem's walled Old City pose the risk of a relapse into a broader conflagration like last year's Gaza war.