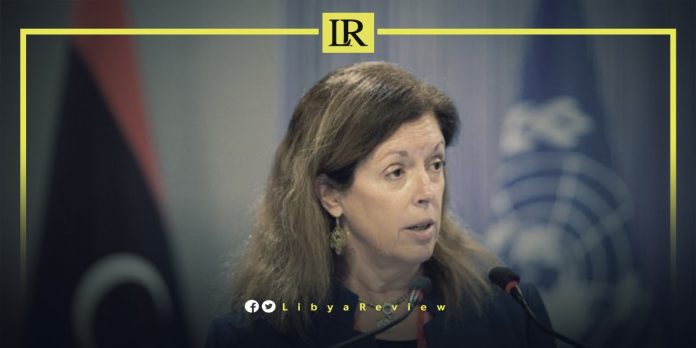 The Special Adviser to the United Nations Secretary-General on Libya (SASG), Stephanie Williams recently found herself in the crosshairs of Libyans, for her failure to end the country's crisis.
The Libya Stats website conducted two opinion polls this week. In order to measure the extent of the people's satisfaction with the performance of the United Nations Support Mission in Libya (UNSMIL).
The first poll was put up for a day on Twitter. 224 people participated, with 94% of the voters believing that the UN's role is "very bad." 2% of the participants affirmed that UNSMIL is performing excellently, the remaining 4% said its role was good.
In the second poll, Libya Stats asked "Do you support the expulsion and replacement of the Adviser to the Secretary-General of the United Nations, Stephanie Williams, from Libya?"
After 253 people voted, 89% of them called for her dismissal and replacement. 11% voted in favour of her remaining.
Williams' actions have received angry responses from politicians and officials. The former Head of the Libyan Media Corporation (LMC) Mohamed Bayou, said that "no patriotic Libyan who wants stability for his country can ignore the practices of this American diplomacy in Libya."
"Leave, you failed conspirator," Bayou added.
He said that Williams "is one of the main reasons behind the sharp political division in Libya now. She has completely failed in all of her steps and initiatives."
He also accused Williams of keeping silent about the bribes that led to Prime Minister, Abdel-Hamid Dbaiba reaching power. "She is the one who created the failed political process in Geneva that produced the most corrupt executive authority in the history of Libya."
"Williams possesses all the information about the bribes of the Libyan Political Dialogue Forum (LPDF), which she did not provide to the United Nations or to the Libyan people. There are some claims that Dbaiba has bribed Williams, and I think Dbaiba is threatening and blackmailing her."
He pointed out that the SASG "lied to the Libyan people by setting the election date for 24 December 2021, knowing full well that this was impossible." Bayou noted that Libya is "approaching a military explosion, suffering from a complete political impasse, an economic catastrophe, the continued division of the Central Bank of Libya (CBL), and a lack of security. Especially in Tripoli due to the militias' control.