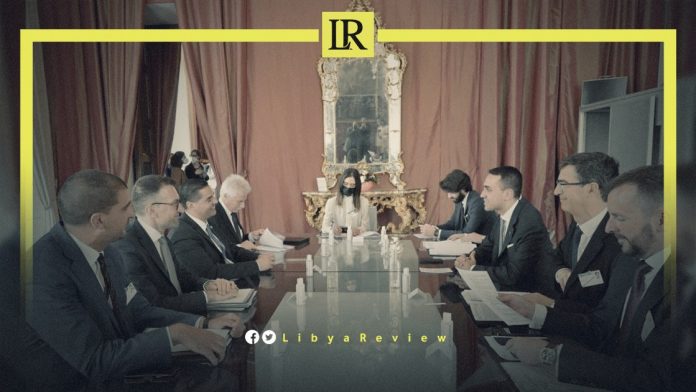 On Friday, Maltese Foreign Minister, Ian Borg held a meeting with his Italian counterpart, Luigi Di Maio, on the sidelines of the European Council session.
The two discussed the latest developments in Libya, the migration crisis, and cooperation in energy
On Wednesday, Italian FM Di Maio held a meeting with the United Nations Secretary-General, Antonio Guterres. They discussed the latest developments in Libya.
The meeting was held at the United Nations Headquarters in New York. The two sides discussed a number of issues, especially the Russian-Ukrainian war, food security in the region, in addition to energy supplies in Europe.
Earlier in April, the Italian FM stressed that Rome's priority towards Libya lies in avoiding military escalation or dividing the country, "because of Libya's destabilizing effects on the entire region."
Italy, which sources about 40% of its gas imports from Russia, has been scrambling to find alternatives and diversify its supply mix following Moscow's invasion of Ukraine. Di Maio announced in March that Italy intends to increase its imports of Libyan and Algerian gas. Rome imported about twenty-nine billion cubic meters of Russian gas last year.
But the unrest in Libya is may not lead to that energy reaching Europe.
Violent clashes erupted on Tuesday in Tripoli after Parliament-backed Prime Minister Fathi Bashagha Bashagha failed to enter the capital. Bashagha's media office said the PM left Tripoli hours after his arrival, "to stop the bloodshed and ensure the safety and security of the people."
He had entered overnight, accompanied by allied fighters in the hope of taking over the government headquarters. He was quickly met by opposition from forces aligned with incumbent PM, Abdel-Hamid Dbaiba.
Bashagha condemned the armed escalation carried out by militias affiliated with the Government of National Unity (GNU) in Tripoli. He said he was surprised by the "dangerous military escalation," despite him and his ministers entering Tripoli peacefully.
The Italian Embassy reported that a captain in the Libyan diplomatic police, was injured by a stray bullet during the clashes.
The Italian Embassy said that Tripoli "should not be held hostage to political conflicts." It urged all actors to abide by their pledges to refrain from violence, and called for immediate and sincere efforts to hold elections through the UN-sponsored mediation underway in Cairo.