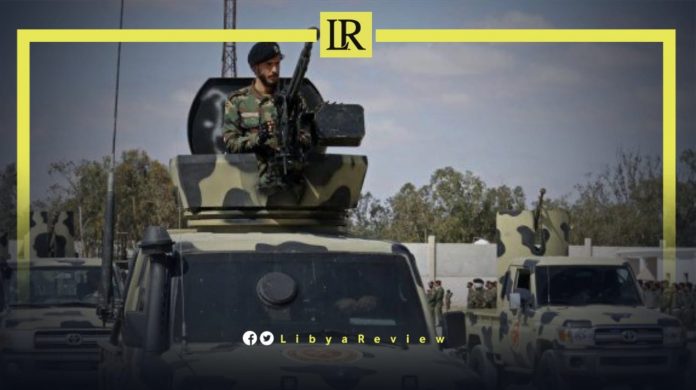 The Spokesperson for the Libyan National Army (LNA), Major General Ahmed Al-Mismari, said the operations to purge southern Libya of terrorists and Chadian smugglers continue.
In press remarks, Al-Mismari pointed out that the Chadian groups present near the Libyan border are armed opponents of the Chadian government. He explained that arms smugglers, human traffickers and gangs are present with those Chadian rebels.
He stated that these gangs and rebels were controlling the Southwest of the country, and some groups were roaming in the Southeast around the city of Kufra in the triangle of the Libyan-Sudanese-Egyptian border.
Al-Mismari articulated that the crisis in northern Chad prompted some elements -whether from the armed opposition or gangs- to enter Libyan territory.
Regarding the presence of ISIS elements in the South of Libya, he explained that the organisation is present in small groups in the Southwest, where it benefits from the nature of the geography in the region.
Al-Mismari said that Al-Qaeda exists in variable numbers according to circumstances, and that its elements are trying to maintain lines of communication between groups in Libya, Mali, Niger and Boko Haram.
He revealed that the LNA forces had eliminated one of the hideouts of the Al-Qaeda organisation in the South, after monitoring their movement in the southern Qatrun region.
The media official of the LNA, Ageela Al-Saber, told Sky News Arabia that they deployed the "106th Brigade to the city of Murzuq, in the far South of Libya, close to the Chadian border."
Al-Saber explained that the brigade's units were deployed to control the security situation. This coincides with the return of a number of families, who were displaced from Murzuq years ago. As well as to "secure the Libyan borders and remote cities, and confront cross-border activities."
"The LNA has sent reinforcements in all strategic directions, and is monitoring the movements of terrorist elements in the South and West of Libya," he noted.
Local sources told Sky News Arabia that the mining areas in the Kouri Bogoudi area "always witnesses confrontations between competing tribes, who live in Chad, Libya, and Sudan."
On Saturday, the Chadian President, Mohamed Déby, said his country will work to control its gold reserves in mining areas, especially in its border triangle with Libya and Niger.
In remarks to Tele Chad News, Déby said that gold is smuggled every week from Chad to Libya worth 57 billion CFA francs, equals 91 million US dollars.
Déby pledged to ensure that Chadians benefit from the gold mines in the Kouri Bogoudi area on the Chadian-Libyan border.