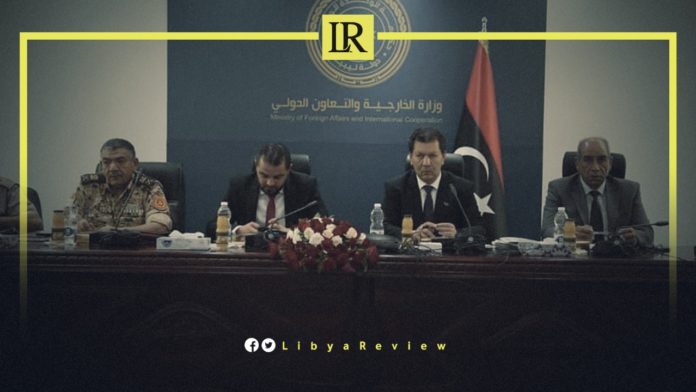 Senior Libyan officials met on Wednesday to discuss ways to implement the Quartet Agreement on Border Security concluded in 2018, between Libya, Chad, Niger, and Sudan.
The porous joint borders area is home to various armed groups and rebel movements, and used by human smugglers with impunity.
The Chief of Staff of the Border Guard, the Director of the Military Intelligence Department, and the Commander of the Operations Authority of the Libyan Army attended the meeting. Representatives from the Ministries of Interior, Justice, and General Intelligence also participated in the session.
The meeting concluded with the formation of a technical committee, which "will develop a national action plan that will be presented to the Presidential Council (PC) for discussion and adoption. The PC will present that plan to the countries participating in the Quartet Agreement for discussions," the statement noted.
Last week, Libyan National Army (LNA) forces destroyed a convoy of Chadian opposition militants who were stationed in the Tarbu area, near the city of Murzuq, on the southern border of the country.
In a statement, the Libya Military Information Division said that the LNA-affiliated Tariq bin Ziyad Brigade carried out a military operation targeting Chadian mercenary groups and militants.
It added that the LNA forces "will continue to fight against all foreign forces along the southern border areas," noting that one Libyan soldier was killed in the clashes. According to Libya Review sources, the Chadian Forces entered Libya after clashing with the Chadian Army in Aouzou earlier today.
Notably, these Chadian opposition groups are affiliated with the Front for Change and Concord in Chad, which earlier this year assassinated Chadian President, Idriss Deby. It announced the death of two of its fighters in the clashes.
In June, the LNA launched a military operation in southwest Libya to "pursue terrorists and expel gangs of African mercenaries, who threaten the stability and security of the country."
The Chadian opposition factions are active in the vast areas of southern Libya, and control most of the smuggling routes. They have been implicated in several kidnapping and ransom crimes against local residents, in addition to human and drug trafficking.
According to a report of the UN Panel of Experts on Libya issued in March, Chadian groups stationed in southern Libya have become part of social life there.