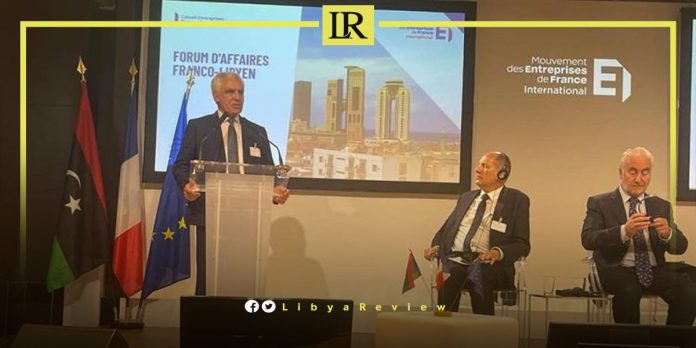 Head of the Libya General Union of Chambers of Commerce, Mohamed Raied said that Libya is "looking to strengthen trade relations with France and Europe, in a way that serves all sides."
Speaking at the French-Libyan Business Forum on Monday at MEDEF's Paris headquarters, Raied called for increased economic and commercial exchange, and the removal of obstacles.
He also called for the resumption of work at the French Consulate in Tripoli, and the issuance of visas for Libyan citizens, similarly to other embassies in Tripoli. He also called for action to encourage French companies to return to Libya.
Raied provided a quick summary of the Libyan economy, and the tremendous prospects for collaboration with France in various areas. Especially in light of Libya's strengths and resources, as well as the growth it requires in a number of sectors.
He confirmed the opportunity for collaboration in the creation of solar energy, and to solve the issue of the exorbitant pricing of many commodities by creating supply lines from France.
He pointed out the significance of stepping up collaboration in the digital economy, referring to Libya's participation in numerous international forums. As well as benefitting from French experience in transportation, infrastructure, education, industry, and trade.
The event was organised by the French Employers Association (Mouvement des entreprises de France / Movement of the Enterprises of France – MEDEF) and the French Libyan Chamber of Commerce.
It was co-chaired by Philippe Gautier, Director General of MEDEF International and Jérôme Barthe, President of the French-Libyan Chamber of Commerce.
MEDEF is the largest employer federation in France, originally established under another name (CNPF) in 1946. It has more than 750,000 members, 90% of which are SME's with fewer than 50 employees.