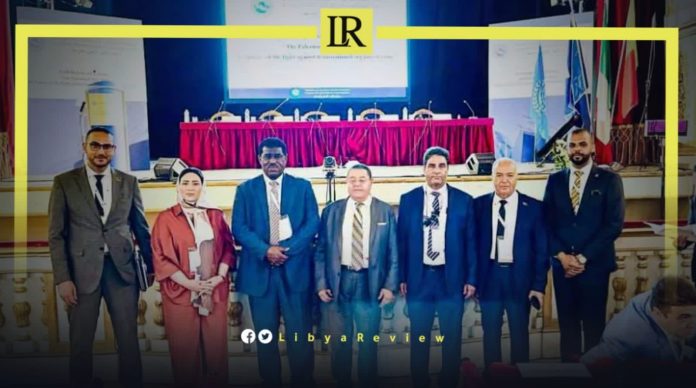 The Libyan Parliament delegation headed by the Deputy Rapporteur, Sabah Jumaa, participated in the Naples Conference on Transnational Organised Crime and its Challenges, held in Italy over two days.
She said that the House of Representatives (HoR) intensified its efforts to formulate a national system to combat human trafficking and to protect human rights.
The Libyan lawmaker noted that despite the challenges Libya is witnessing and the political divisions, the HoR has taken vigorous steps towards combating trafficking. "At the legislative level, Libyan law criminalises human trafficking and stipulates severe penalties against traffickers," she said.
Member of Parliament (MP), Jumaa, stressed that Libya intends to issue a law regulating the criminalization of human trafficking and tightening penalties against human traffickers. "The legislative authority has also issued several laws to enhance border security and combat smugglers and human trafficking gangs, in cooperation with neighboring countries," she added.
She pointed out that the Ministry of State for Immigration Affairs and an Undersecretary of the Ministry of Interior for Immigrant Affairs were created at the Bashagha government, which was granted confidence by the HoR.
Jumaa pointed out that the various crises in the region are causing large migration streams from neighbouring countries and that Libya cannot accommodate large numbers of migrants due to economic crisis.
The Libyan MP called on the international community to assume its responsibilities and search for common solutions for the migration crisis.
The Head of the International Organisation for Migration in Libya (IOM), Federico Soda, described the situation in Libya as "a vicious cycle of abuse in the country."
"We have really made no progress in years," he told reporters in Brussels last month, according to European Union (EU) Observer News.
"Not enough is being done to change or to try and influence change," he said, noting that the EU "cannot just stop migrant crossings and think the issue has been resolved." Soda also said migrant smuggling and trafficking "is quite alive and well" in Libya.