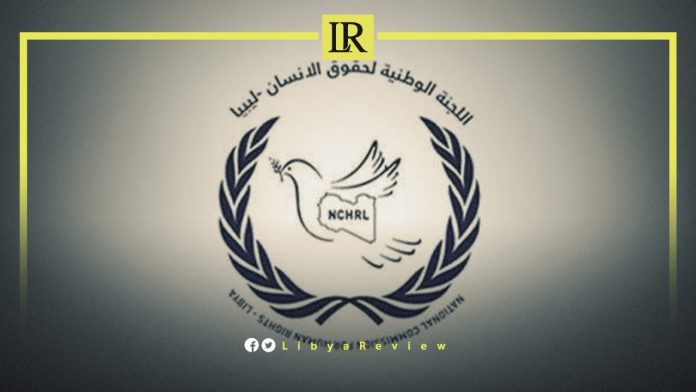 On Saturday, the Libyan National Commission for Human Rights (NCHRL) affirmed its complete rejection of resorting to violence, riots, assaulting public and private property, or resorting to burning and destruction in demonstrations.
In a statement, the NCHRL said that it requires commitment to the peacefulness of the demonstrations. It pointed out that the adoption of a violent and riotous approach empties the demonstrations of their content, delegitimises them. It also exposes the participants in them to legal prosecution.
It denounced the dispersal of peaceful demonstrators and the threat of violence against them in the cities of Tripoli and Ajdabiya, who demanded a number of legitimate rights and demands.
The commission noted that this is a grave violation of human rights and citizenship, freedom of opinion and expression, and the right to peaceful demonstration guaranteed by constitutional rules, legislation and national laws.
The NCHRL called on all parties and political entities to pay attention to the demands of the Libyans and take them seriously, to work to meet their legitimate demands.
The statement called for respecting the will of the 2.5 million citizens registered in the electoral register and looking forward to holding the elections and ending the transitional stages.
The commission pointed out that the Libyan people are tired of the continuation of the current situation and the consequent deepening of the political crisis, including its disastrous effects and repercussions on the humanitarian situation of citizens.
The NCHRL confirmed the legitimacy of the demands of the demonstrators throughout the country. It called on all parties and political entities to work to find a comprehensive political solution to the current blockage and political division.
The commission demanded that all political entities find a solution to meet the hopes, aspirations and demands of the Libyans. This so that Libyans can hold elections, achieve comprehensive national reconciliation and end the state of political division as well as the humanitarian and living crisis.
The statement explained that the interim constitutional declaration and national legislation guaranteed citizens the right to peaceful demonstration and freedom of opinion and expression to demand their rights.