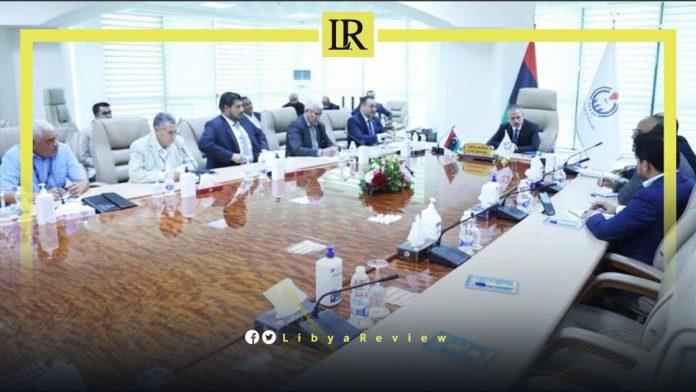 The Chairman of Libya's National Oil Corporation (NOC), Mustafa Bengadra said that the priority of the NOC is to supply gas to local power stations in all Libyan regions.
He held a meeting with the Chairman of General Electricity Company in Libya (GECOL), Mohamed Omar Al-Mashai and the Chairman of the Renewable Energy Authority, Abdul Salam Al-Ansari. They discussed the challenges and difficulties facing the energy sector in Libya.
"During the meeting, aspects of joint cooperation between GECOL and the NOC were discussed. The two sides also discussed ways to ensure gas supplies for power stations, and the development of optimal solutions to meet these challenges," the NOC said in a statement.
The possibility of investing in renewable energy projects, and generating electricity through alternative energies were also reviewed.
Al-Ansari briefed Bengadra on renewable energy projects, and the work he carried out in various regions in cooperation with the French company, TotalEnergies SE.
Last week, Libyan Parliament Speaker, Ageela Saleh said that the Government of National Unity (GNU) has failed to address vital issues in Libya, such as electricity and fuel crises.
During a meeting with notables of the city of Tobruk, Saleh noted that the GNU spent billions, but it failed to address these crises due to its corruption.
"As a result of this corruption, the Parliament withdrew confidence from the GNU led by Abdel-Hamid Dbaiba, and appointed a new government headed by Fathi Bashagha," Saleh explained.
Earlier this month, GECOL said the recent eruption of fighting caused the malfunction of a power station. It explained that the clashes in Tripoli and Ain Zara, led to the damage and disconnection of the main power drain circuit linking Bir Al Usta Milad station, and Ain Zara station with a voltage of 220 kV. The Company said that this will negatively affect the performance of the electrical grid, and lead to an increase in load shedding hours.