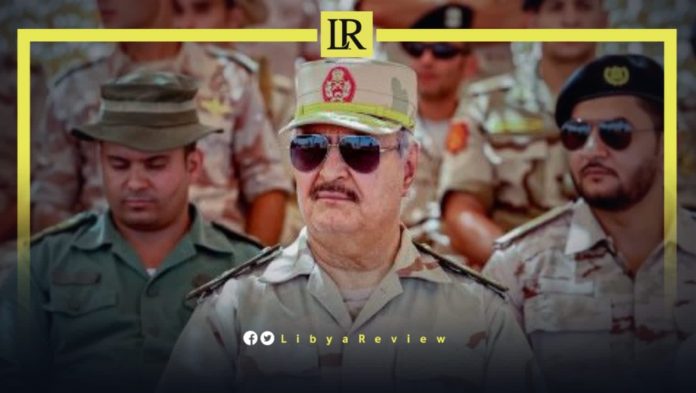 On Wednesday, the Commander-in-Chief of the Libyan National Army (LNA), Field Marshal Khalifa Haftar attended a large-scale military exercise. These involved two combat forces, the Tariq bin Ziyad Brigade, and the 106th Majahfal Brigade.
The exercises took place at Masous, a village located 130 km southeast of Benghazi
According to a statement by the LNA's General Command, live ammunition was used in the tactical exercises. These aim to "raise the combat competencies of the units of the armed forces."
In a brief speech before the start of the exercise, Haftar said that "we cannot be reassured as long as there is terrorism in the country," adding, "we and terrorism cannot coexist, and there must be a determination to get rid of terrorism in the coming period."
During a ceremony held in the Green Mountain's Al-Abraq region, to mark the eighth anniversary of the LNA's Al-Karama operation, Haftar stated that they have "supported every political track to build up the state and enhance progress towards a better life. We were keen on a ceasefire and reconciliation."
He stressed that the LNA "will never forget the honourable and unprecedented positions of the Libyan people during this war, which aimed at saving our homeland from terrorism and thwarting the scheme of subversive organizations. We want peace to prevail throughout the country, and to stop the series of killings and bloodshed."
Haftar stressed that all initiatives and agreements that ignored the people have resulted in "a drain on wealth, the spread of corruption, and threats to the safety of the nation." As well as adding that parts of western Libya have "become a hotbed for the occupier, and hired mercenaries."
Libya fell into chaos after the collapse of the regime of long-time leader Muammar Gaddafi in 2011.