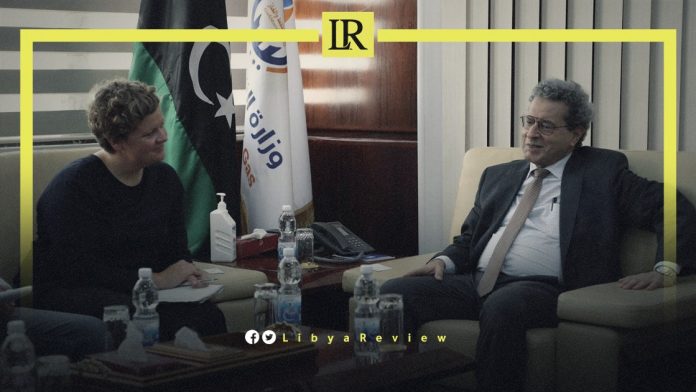 Libya's Minister of Oil and Gas, Mohamed Aoun received the Chargé d'Affairs at the German Embassy, Annika Engels and her accompanying delegation on Wednesday. They discussed ways for German companies to resume their operations in the Libyan oil and gas sector
The two parties also discussed alternative and renewable energies, spare parts, and maintenance for equipment and pipeline
Aoun stressed that his ministry is "making every effort to maintain and increase production." He also praised the "importance of Germany's efforts in clean energy, investments, and increasing the country's refining capacities."
Engels has earlier met with Advisor to the Libyan Minister of State for Economic Affairs, Imad Bahri. The two parties agreed to organize a Libyan-German forum, as well as the Made in Germany Exhibition. Their meeting discussed the need to work on developing bilateral relations, to serve the interests of both countries.
They also reviewed ways of enhancing economic cooperation, especially in the field of investment projects. The two sides agreed to raise the volume of trade exchange, regulate capital flow, personnel movement and development cooperation. As well as benefiting from the German experience in the field of entrepreneurship.
They stressed the importance of intensifying visits between the two sides, exchanging economic information, and exploring opportunities for new projects.
Notably, OPEC also agreed to cut an estimated production of 100,000 barrels of oil for September.