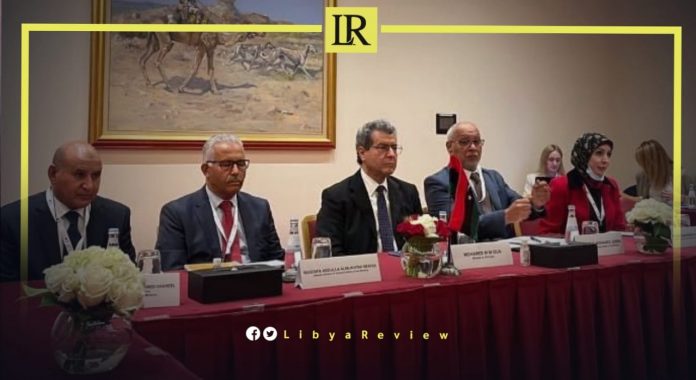 Russian Energy Minister, Nikolai Shulginov met with his Libyan counterpart, Mohamed Aoun on the sidelines of the Gas Exporting Countries Forum (GECF) on Monday. They agreed to resume the work of the bilateral intergovernmental committee, which had been suspended for years, in addition to activating several agreements.
The meeting came after the increase in global demand for natural gas, following the repercussions of the Ukrainian crisis.
There have been many international calls to raise Libya's production, to compensate for the shortfall that may occur in the European energy market.
Earlier this month, Aoun said that Libya has great cooperation with Russia in many fields, including the oil field.
In an interview with the Russian news agency Sputnik, Aoun said that the Russian-Libyan Joint Committee is likely to hold a meeting next April to discuss mutual cooperation.
"Russia is one of the largest oil and gas producing countries in the world and has great areas of cooperation with the State of Libya," he said.
"During the previous period, submersible pumps were imported from Russia, and some Libyan oil companies used these submersible pumps. There are major economic areas in which we cooperate, such as building a railway in Libya, as well as importing grain and others," Aoun explained.
Aoun said that the Russian company Tanteft has three oil fields in his country, explaining that the Russian company has discovered oil and that it is in the process of developing and completing drilling operations in these fields.
"Regarding Russia's Gazprom, it has an onshore field and an offshore field. Unfortunately, there is a technical problem in the offshore field because the United States of America has imposed a ban on drilling equipment that is deeper than 100 meters. Therefore, Gazprom Neft is facing difficulty in completing the exploration, drilling and development process these fields," he added.
He explained that Libya aims to raise production to about 1.4 million or 1.5 million barrels per day in 2022/2023. "This is the plan and we hope that we can fulfil it."
He also stressed that Libya does not have the ability now to export oil to Europe via the "Green Stream" company line, explaining that the amount of Libyan production is currently allocated to the consumption of power stations and others in Libya.
"I do not think in the near future, that we will have the ability to increase any quantities of gas for export. I do not think that it will be in the effective quantities that can resolve the shortage crisis in the European Union."