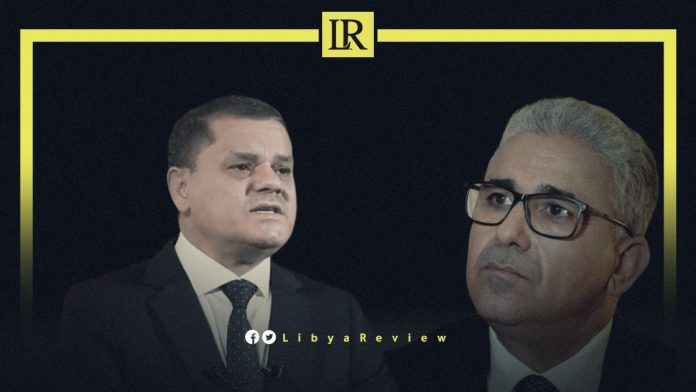 The Interior Ministry of the Bashagha government accused the Government of National Unity (GNU) led by Abdel-Hamid Dbaiba of violating the ceasefire agreement.
The Interior Ministry said in a statement that it had received security information that the GNU Chief of Staff, Mohamed Al-Haddad and Intelligence Chief, Hussein Al-Ayeb had formed an operations room for the use of military drones at Mitiga Air Base in Tripoli.
The statement claimed that those drones have killed two policemen, wounded dozens of civilians, and targeted ambulances. The statement did not specify the time and place of the incidents.
It added that Al-Haddad and Ayeb held intensive meetings with a number of militias, and pushed them to attack the Al-Jafara area.
It stressed that "this military action is a clear violation of the ceasefire concluded in October 2020, and the political agreement between the Libyan Parliament, and the High Council of State (HCS).
The MoI called on the UN team of experts, the diplomatic missions of the five permanent countries at the Security Council, the European Union, and human rights organizations to investigate the use of these weapons.
Libya's two rival governments yet again vie for power in the oil-rich, but impoverished North African country.
In August, fighting broke out in various districts of Tripoli between groups armed with both heavy and light weapons. The Tripoli Revolutionaries Brigade (TRB) affiliated with the commander Haitham Al-Tajouri clashed with the Stabilization Support Apparatus (SSA) affiliated with Abdel-Ghani Al-Kikli (Ghnewa).
Gunshots and explosions rang through the darkened streets of Tripoli, according to media reports. This resulted in 32 deaths, and 159 injuries.
The violence was the latest escalation to threaten the relative peace, after nearly a decade of civil war in Libya.
The UN Mission called for an immediate cessation of hostilities, and reminded all parties of their obligations under international humanitarian law to protect civilians.