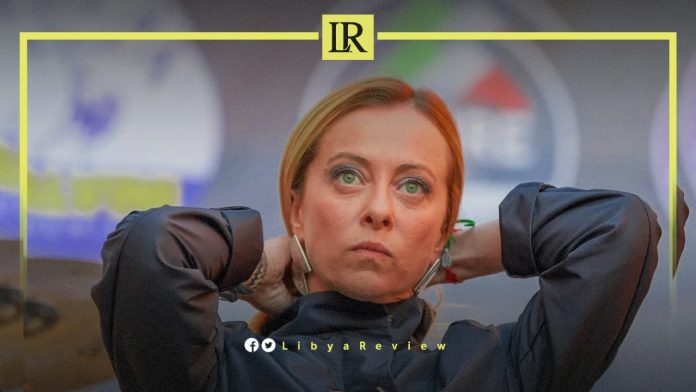 The founder of a far-right Italian party and frontrunner to be the country's next leader, Giorgia Meloni reiterated calls for an anti-migrant naval blockade on Libya.
Meloni said during an electoral rally in Mestre that the blockade will be implemented by an EU-led mission, in agreement with Libyan authorities. "Borders must be defended. What we want to do is a European mission to deal with Libya and stop departures," she noted.
She called for opening hotspots managed by the international community in Africa, redistributing refugees in the European Union, and sending back irregular immigrants.
In August, Meloni explained that the Italian navy will blockade the north African coast, "so that all migrants can be screened before leaving to ascertain whether they are genuine refugees. Those who can prove their refugee status should be allowed through, while those who cannot, will be sent home."
Meloni stated that the naval blockade will take place with Libya's approval.
Meanwhile, the Italian Ambassador to Libya, Giuseppe Buccino reiterated Italy's commitment to helping Libya with the migration crisis through several deals and agreements.
The influx — while not unusual for the summer months — comes as Italy gears up for early elections which could bring the far right to power.
Between January 1st and July 22nd, 34,000 people arrived in Italy by sea, compared with 25,500 during the same period in 2021 and 10,900 in 2020, Italy's Interior Ministry said.
More than 600 people attempted to cross the Mediterranean on board a drifting fishing vessel. They were rescued in July by a merchant vessel and the Italian Coast Guard off Calabria, on the southern tip of Italy.
The Mediterranean is one of the most dangerous routes for clandestine migration. According to the United Nations High High Commissioner for Refugees (UNHCR), some 3,231 people were recorded as being either dead or missing in the Mediterranean and the Northwest Atlantic in 2021.
Many of those making the perilous crossing do so aboard makeshift vessels supplied by human smugglers, and are often left abandoned in the middle of the sea once the boats fail.