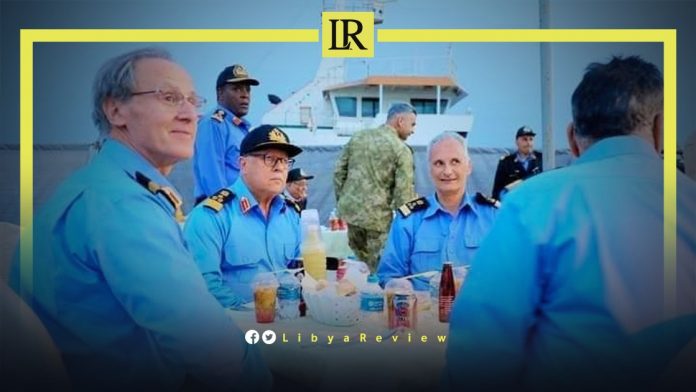 On Monday, members of the General Staff of the Libyan Naval Forces prepared a Ramadan Iftar banquet in honour of the Chief of Staff of the former Government of National Accord (GNA), Lieutenant-General Mohamed Al-Haddad.
The event was held on board the Libyan navy ship, Ibn Auf at the Tripoli Naval Base. It was attended by the commander of the Turkish military base in Libya, and a number of Turkish soldiers at Mitiga Airport.
The hosts were received by the Chief of Staff of the Naval Forces, Major General Noureddine Al-Buni, in the presence of a number of naval officers, and non-commissioned officers.
Turkish forces were initially deployed in Libya as part of a military cooperation agreement. This was concluded between Turkey, and the previous Government of National Accord (GNA) in 2019.
Turkey's Anadolu state news agency published pictures earlier this month showing Turkish soldiers eating "the first Suhoor meal" (the pre-dawn meal before the day's fast) in Tripoli.
In 2019, Libya and Turkey signed two agreements on military cooperation and maritime boundaries in the Mediterranean sea. The military agreement aims at ensuring the protection of Turkey's interests in Libya, strengthening ties between the two countries, and allowing Ankara's direct intervention in the country.
In May, Turkish Defense Minister, Hulusi Akar stated that the Turkish soldiers and Syrian mercenaries in Libya would remain to preserve Ankara's interests.
The UN estimates there are over 20,000 foreign fighters and mercenaries in Libya, helping both sides of the conflict.
In April 2019, the Libyan National Army (LNA) led by Khalifa Haftar launched an offensive on Tripoli. The GNA requested help from Turkey in November 2019, to avert an LNA takeover. Ankara soon began to airlift thousands of Syrian mercenaries, and an array of weapons to support the GNA.
The October 2020 ceasefire agreement demanded the withdrawal of all mercenaries and foreign fighters from the country. A number of Libyan politicians have called for the closure of airspace to Turkish aviation.
Notably, a professor of political science at Omar Al-Mukhtar Al-Libi University, Yusef Al-Farsi said that the Turkish air bridge to western Libya was impeding international efforts to end the Libyan crisis peacefully.