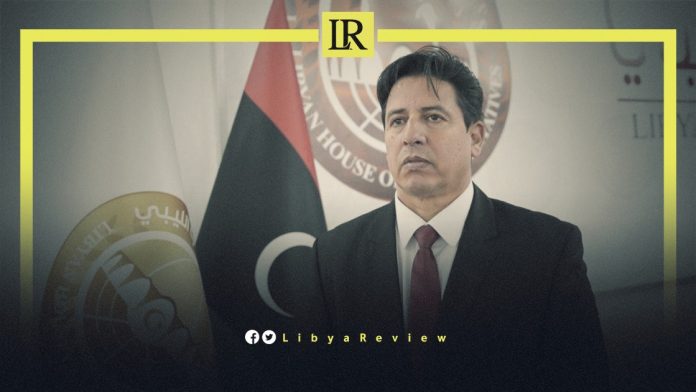 On Thursday, the Chairman of the Libyan Parliament's Foreign Affairs Committee, Youssef Al-Agouri praised relations with China, during a telephone call with the Chinese Ambassador to Libya, Wang Qimin.
The MP affirmed the Parliament's hope to strengthen cooperation with China in all fields. He also stressed the importance of resuming stalled Chinese projects in Libya.
The Chairman noted the Parliament's keenness on China's role in supporting the stability of Libya, confirming Libya's respect for China's territorial integrity and its role in the region.
In turn, Ambassador Qimin said China is "keen to develop its relations with Libya in all fields, and to support the return of peace to the country in a manner that respects the will of the Libyan people, and in accordance with Security Council resolutions."
In July, Libya's Oil Minister Mohamed Aoun praised the "historic" commercial and economic ties with China, describing its relations with all key actors in East and West as "friendly."
In an interview with Libya Review, Aoun said several Chinese companies have re-entered the oil sector in Libya, and continue to buy shipments of Libyan oil.
"We are a developing country with vast lands, and are in need of competitive prices. It is good for Libya to have friendly economic and commercial relations with China," Aoun said.
He noted that several Chinese companies were previously present in the construction industry, building large-scale housing projects. "Beijing also has constructed electric power lines, so it has vast capabilities and we can benefit from it," he explained.
"Chinese prices are reasonable when you compare them to the equipment coming from western countries. Their (Chinese) prices are very competitive and reasonable for the Libyan state," the minister added.
Aoun said Libya was rich in natural resources, and needs companies to build factories and plants for cement, steel, gold refining, uranium, solar power, and renewable energy. He invited international companies to bid for these projects in Libya. "They can come to Libya and compete for the establishment of these projects."
When asked about the dispute between China and Taiwan, Aoun said, "I believe that if the origin of this land is the greater country, it should return to its origin."
Notably, China is the largest Asian importer of Libyan oil, accounting for 4% of foreign exports. Europe is the largest importer of Libyan crude in the world, accounting for 75% of exports.
The volume of Libyan oil revenues exported to China exceeded about $1.7 billion in 2017, and rose to $3.5 billion in 2018, according to Libya's National Oil Corporation (NOC).