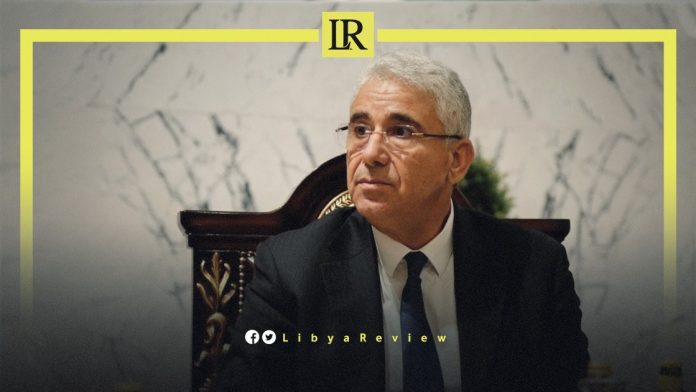 Libya's Prime Minister-designate, Fathi Bashagha held a meeting with a number of ministers to discuss the implementation of infrastructure projects and public utilities. In addition to developing air navigation systems for Libyan airports.
The meeting discussed the completion of educational and health facilities, as well as the maintenance of a number of Libyan airports. "During the meeting, it was proposed to establish new roads linking Libyan cities and regions to each other," the statement added.
Bashagha affirmed the need to expedite maintenance work, prepare administrative and service headquarters, and refurbish the airport in Sirte.
The meeting was attended by Minister of Planning and Finance; Osama Hammad, Minister of Public Works; Nasr Muhammad, Minister of Civil Aviation; Hisham Abushekiwat, Minister of State for Prime Minister and Cabinet Affairs; Muhammad Farhat, and Director of the Urban Development Authority in the Eastern Region; Naji Al-Madani.
In August, Bashagha discussed the economic challenges facing Libyan businessmen, the political situation, and the impact of the recession on the national economy. The meeting touched on the government's plan to revitalize the economy.
He stressed his government's support for the private sector, and encouragement of public-private partnerships. He also supported a partnership between local and foreign companies.
Earlier, Bashagha claimed that "only three or four companies control the Libyan economy." He explained that "those companies are owned by family members of the Prime Minister of the Government of National Unity (GNU), Abdel-Hamid Dbaiba."
Bashagha stressed that the GNU "failed to lead Libya to elections, and does not have the will to meet the aspirations of the Libyan people." He said that Dbaiba's government "only seeks power, with the help of some countries that have certain interests in Libya."
In addition, he accused the GNU of obstructing the country's long-awaited elections. "We should have now had a new government, a new Parliament, and an elected President had the elections been held as scheduled."
"The Libyan economy is totally controlled by three companies owned by the family of Abdel-Hamid Dbaiba, and we receive reports from currency dealers that money is directly deposited in the bank accounts of these companies." He indicated that this is "behind the current economic recession, which could be catastrophic if the situation continues unchanged."
The PM urged for "putting the Libyan economy on track, by forming a national committee tasked with preventing the monopoly of Libyan funds, at the hands of a small number of businessmen and traders.