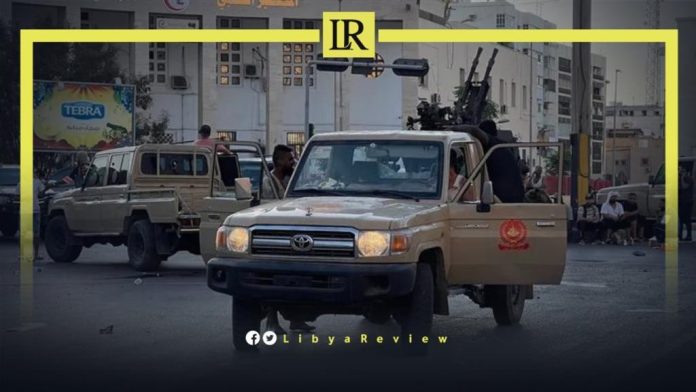 A child was killed and five others were injured after violent clashes erupted between armed groups in in the city of Al-Zawiya, west of Tripoli, according to Osama Ali, the Spokesman for the Libyan Ambulance and Emergency Services.
Local sources told Al-Arabiya news that fighting erupted after a member of the Sala'a militia was attacked by the Sifaw militia. The source added that, tanks and various types of medium and heavy weapons were used during the clashes on Sunday evening.
Video clips circulating on social media also showed the firing of grenades and RPG from both sides, while thick smoke was seen rising between the buildings, amid reports of civilian casualties.
These clashes came two days after similar clashes between militias in Tripoli, despite UN and international warnings against the use of violence.
On Friday afternoon, violent clashes erupted between armed groups in the Al-Jibs Gate area in the Libyan capital, Tripoli.
The clashes took place between the 301 militia from Misrata, led by Abdel-Salam Al-Zoubi, and a militia from the city of Al-Zawiya led by Mohamed Bahrun, commonly known as Al-Far (The Mouse).
The violent clashes extended from the vicinity of Al-Jibs Gate to the Airport Road, and near the headquarters of the Islamic Call Society, according to Sky News sources. The two sides used heavy and medium weapons in the confrontations. Eyewitnesses indicated that members of the "Directorate Support Force" had been killed. As they were stationed at the Airport Road, after expelling Al-Far.
Vehicles bearing the slogan 111 Brigade were spotted heading to the area. Gunmen closed the road to and from the Al-Jibs Gate, according to Sky News. Sources suggested that these clashes were a "revenge attack" by the Al-Far militia for being forced to evacuate the area on Monday. Heavy losses were reported after a "lighting attack" by the Directorate Support Force.