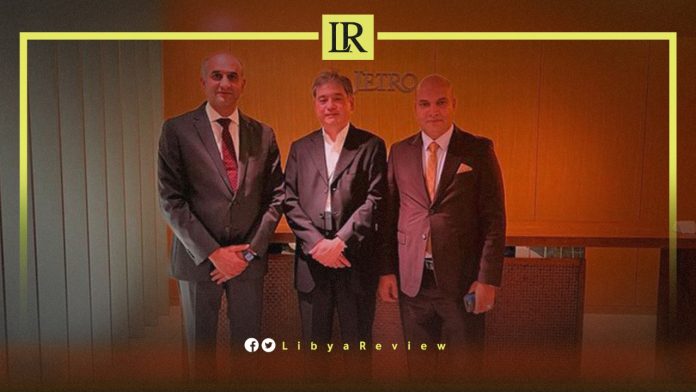 On Tuesday, the Director of the Asian and Australian Affairs Department at the Libyan Foreign Ministry, Nuri Al-Kaseh held a meeting with Nobuhiko Sasaki, Chairman and CEO of the Japan External Trade Organization (JETRO).
During the meeting, the two officials discussed ways to enhance bilateral investment opportunities, in the fields of economy and energy.
Al-Kaseh stated that Japan is working alongside local authorities to promote stability and peace throughout the country, and to provide basic services for citizens in remote areas.
The talks were also attended by the Chargé d'Affairs at the Libyan Embassy in Tokyo, Ahmed Al-Naas.
Sasaki stated that they "are always prepared to support Libya and contribute to its reconstruction and development, in coordination with various United Nations agencies."
He stressed that Japan is "looking to invest in startup firms, and seeks to boost climate-friendly, sustainable business development in Africa."
The officials also discussed laying down steps to enhance joint cooperation during the coming period.
In August, the United Nations World Food Programme (WFP) in Libya welcomed a contribution of JPY 200 million Yen (about US$1.53 million dollars) from Japan for food distribution in the west and the east of Libya.
The WFP said the project aims to provide food assistance to more than 10,000 beneficiaries, including vulnerable and food-insecure people, as well as schoolchildren.
The Japanese government has recently confirmed a new contribution of US$ 500,000. This is to provide general food assistance to some 8,500 vulnerable IDPs, host communities, and returnees in the south of Libya who are suffering from high food prices, exacerbated by the conflict in Ukraine.
"WFP is extremely grateful to the Government of Japan for these generous contributions coming at a crucial time in a world struggling with the impact of COVID-19 and the conflict in Ukraine," said Maysaa AlGhribawy, WFP's Representative and Country Director in Libya.
"Both Japanese contributions will allow WFP Libya to support thousands of people in need who are affected by the COVID-19 pandemic and rising food prices. This will provide monthly in-kind nutritious and unconditional food assistance in the targeted districts across the country, where the market functionality has been greatly affected by global supply chain disruptions," she said.