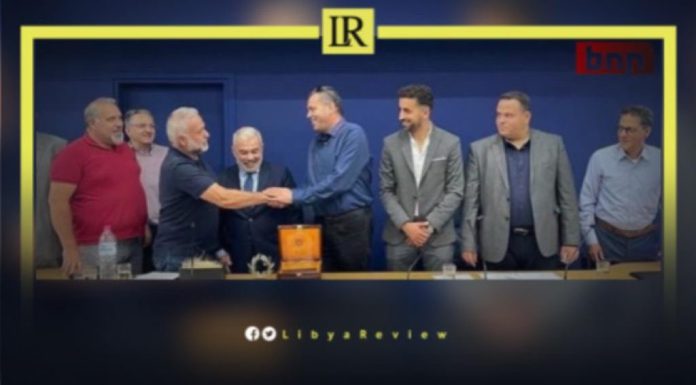 The Tripoli Chamber of Commerce, Industry, and Agriculture signed a Memorandum of Understanding (MoU) with Greece's Lesvos Chamber of Commerce and Industry. The MoU is expected to strengthen economic cooperation, and increase bilateral trade.
During the meeting, both sides discussed a mechanism for "activating the MoU to develop trade relations, and exchange experiences, data, and information regarding investment opportunities."
The agreement will also organise "joint events that contribute to strengthening communication between economic actors, business owners, and companies. It will also help to work in order to support and develop the sectors of industry, agriculture, and marine wealth."
Notably, a delegation from the Tripoli Chamber of Commerce held a meeting with the Barcelona Chamber of Commerce. They discussed aspects of cooperation, strengthening economic relations, and mechanisms for Libyan companies to enter global markets.
During the meeting, the two sides discussed the importance of enhancing bilateral private sector communication.
They also discussed organizing joint economic activities, benefiting from experiences and expertise, and raising the level of trade exchange.
Earlier this month, Libya's Chamber of Commerce, Industry, and Agriculture's management committee met with the Spanish Ambassador to Libya, Javier García-Larrache. The two parties agreed to establish the Libyan-Spanish Business Council.
A joint exhibition targeting small and medium industries will be set up, helping to support various sectors. It would also enhance the role of these industries in diversifying the national economy and localizing industries, according to a statement.
The meeting discussed the issues and obstacles facing Libyan businessmen and investors in Spain, and solutions to overcome them. They also stressed the need to work together to raise the level of bilateral trade, and encourage the return of Spanish companies to Libya.
The Spanish Embassy described the meeting as "important and fruitful." It affirmed its "readiness to continue facilitating the returning of Spanish companies into Libya, and to enhance the level of trade and cooperation between the two countries."