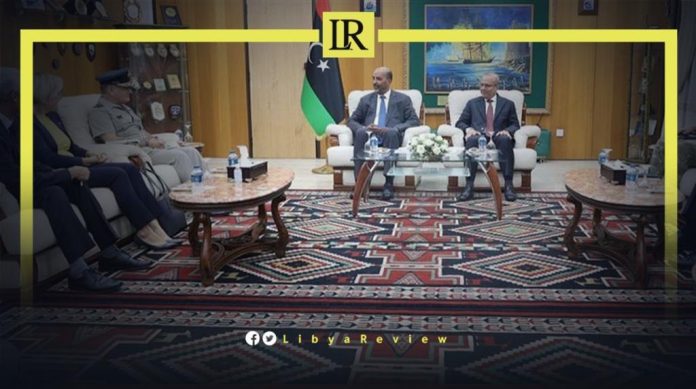 British Defence Senior Advisor to the Middle East and North Africa (DSAME), Air Marshal Martin Elliot Sampson met with members of the Libyan Presidential Council, Abdullah Al-Lafi and Mousa Al-Koni in Tripoli.
Sampson and the Libyan officials discussed the military situation in Libya, and the role of security institutions in imposing stability in the country. Al-Koni and Al-Lafi are members of the Supreme Council of the Libyan Army, however, they do not have any power in the east of the country.
The meeting was also attended by the Chief of Staff in the Western Region, Mohamed Al-Haddad, and the British Ambassador to Libya, Caroline Hurndall.
The British official expressed the UK's support for the efforts to unify the Libyan military institution, in order to establish security and stability. He said that unifying the army would pave the way for elections, which the Libyan people yearn for.
Al-Lafi and Al-Koni affirmed the work to unify the military institution, through Libya's 5+5 Joint Military Commission (JMC). They also pointed to the meetings held between Al-Haddad, and his eastern counterpart. As well as efforts to collect weapons, create a suitable environment for elections, and end the transitional stages.
Last month, the UK condemned the violence perpetrated by armed groups in Tripoli. It called for an immediate cessation of hostilities, and for all parties to engage in UN-brokered dialogue.
"The protection of civilians is critical, and access must be provided for humanitarian personnel," said Lord Tariq Ahmad, the Minister of State of Foreign, Commonwealth, and Development Office (FDCO).
The British official stressed that there can be no military solution to the ongoing legitimacy crisis in Libya.
"It is imperative that all Libyan parties engage with the UN to agree on a path towards free, fair, and inclusive elections, with support from all international actors. The wishes of the Libyan people must be prioritised ahead of narrow self-interests," he added.
Ahmad affirmed his readiness to work with "Libyans, the UN, and international partners to achieve sustainable peace, stability, and prosperity in Libya."
The Embassy called for an "immediate end to violence" in Tripoli, and condemned "any attempts to seize or maintain power by force," stressing the need to protect civilians as "paramount."