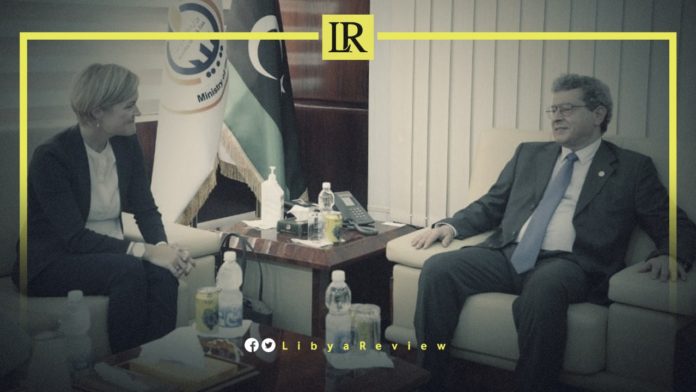 Libyan Oil Minister, Mohamed Aoun stated that he had held talks with the new UK Ambassador to Libya, Caroline Hurndall. They discussed joint cooperation in the oil and gas field.
Aoun stressed the importance of major and specialized British companies contributing to the development of the oil sector.
"Minister Aoun expressed the ministry's continuous aspiration for the UK's promotion of access to possible solutions that achieve stability and construction in Libya," the Oil Ministry said in a statement that on Monday.
The Undersecretary of the Oil Ministry, Rifaat Al-Abbar, affirmed support for the participation of British companies in the development of the sector. He also praised the experiences of the United States, which "support the ministry's ambitions to advance the sector."
In August, Hurndall was appointed as the UK's first female ambassador to Libya, succeeding Nicholas Hopton. She is set to take up her official appointment in September 2021.
From 2004 to 2006, Hurndall headed the Peacekeeping Office, a group of conflict issues of the British Foreign Office. In 2009, she assumed the position of British Political Adviser to the Commander-in-Chief of the US Marine Corps.
On Friday, The Libyan National Oil Corporation (NOC) announced the resumption of crude oil exports on Friday morning in both the Sidra and Ras Lanuf ports, after a pause of one day. Oil exports were halted after a group of demonstrators protested inside the two ports.
Despite the delay in shipment, production was not reduced, the NOC explained. It praised the role of the General Command of the Libyan National Army (LNA) to restore security in the two ports "in a national position to be reckoned with."
"Since the February 2011 revolution, the NOC has been the faithful custodian of Libya's oil wealth," said the Chairman of the NOC, Mustafa Sanalla.