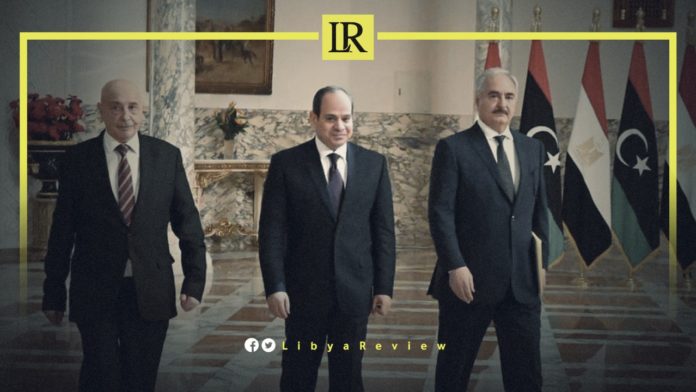 On Monday, Egyptian President, Abdel-Fatah El-Sisi received Libyan Parliament Speaker, Ageela Saleh, and Commander-in-Chief of the Libyan National Army (LNA) Field Marshal Khalifa Haftar. They held a meeting attended by the Head of the Egyptian General Intelligence, Major General Abbas Kamel.
Spokesman for the Egyptian Presidency, Bassam Radi said that they discussed the latest developments in Libya. As well as the distinguished relationship between the two neighbours.
The meeting confirmed that the stability of Libya at the political and security levels, is a part of Egypt's national security.
President El-Sisi welcomed the Libyan leaders, and praised their efforts to restore security and stability, and preserve sovereignty and unity.
He affirmed that Egypt will continue to coordinate with all Libyan parties during the coming period. As well as confirming Egypt's support to ensure the unity and cohesion of Libya's national institutions, and that the December general elections take place as scheduled.
The President reiterated his rejection of foreign interference in the country, which "aims to implement its own agendas at the expense of the Libyan people." He stressed the importance of withdrawing all foreign forces and mercenaries from Libyan territory.
In turn, the two Libyan officials expressed their appreciation for Egypt's role in Libya. They praised the Egyptian contribution to the unification of the LNA, and welcomed Egyptian expertise in benefitting Libya.
Haftar and Saleh confirmed their keenness to strengthen the security track, by having all foreign forces withdraw from Libya. This would "enable security institutions to carry out their responsibilities, and contribute to restoring security and stability throughout the country.
According to Libya Review sources Libyan Prime Minister, Abdel-Hamid Dbaiba is set to pay a state visit to Egypt on Wednesday. Read more here