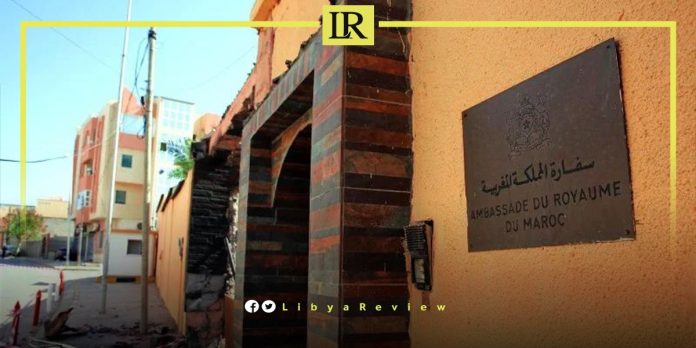 The Moroccan website Hespress said that there is real suffering experienced by about a quarter of a million Moroccans residing in Libya since the departure of the Moroccan Embassy employees.
The Moroccan news website added that the Embassy staff had left due to security threats since 2014, which left Moroccans without diplomatic representation in Libya.
The website pointed out that the Moroccan authorities formed a crisis cell on the Tunisian-Libyan border, but they left without warning.
In January, a Moroccan delegation visited Libya as a first step towards reopening the Moroccan Consulate in Libya.
The delegation was headed by the President of the Maghreb Union Affairs. It included high-profile officials from Morocco's Foreign Affairs Ministry.
Khalifa El Kayd from Libya's Foreign Affairs and International Cooperation Ministry welcomed the Moroccan delegation.
The visit was a step to pave the way for the reopening of the Moroccan Consulate in Tripoli eight years after it was closed. With Morocco's diplomatic mission resuming its responsibilities in Libya, the process of acquiring visas for Libyan citizens going to Morocco was discussed.
In June of 2021, Libya's Minister of Foreign Affairs and International Cooperation at the Government of National Unity (GNU), Najla Al Mangoush, visited Rabat and met with Moroccan counterpart, Nacer Bourita.
The two North-African countries previously set up a committee to facilitate citizens' mobility.
Chaired by the Libyan Foreign Affairs Official Morad Ahmima, the "Joint Libyan-Moroccan Consulate" held its first meeting in late 2021. The meeting tackled various issues relating to facilitating the process of issuing visas for Libyan students and their families, as well as issuing residency permits for Libyan citizens in Morocco.
Libya has been in chaos since a NATO-backed uprising toppled longtime leader Moammar Gadaffi in 2011. The county has for years been split between rival administrations, each backed by various militias and foreign governments.
The current stalemate grew out of the failure to hold elections in December, and the refusal of Prime Minister Abdelhamid Al-Dbaiba, who led the transitional government, to step down. In response, the country's eastern-based Parliament appointed a rival Prime Minister, Fathi Bashagha, who has for months sought to install his government in Tripoli.