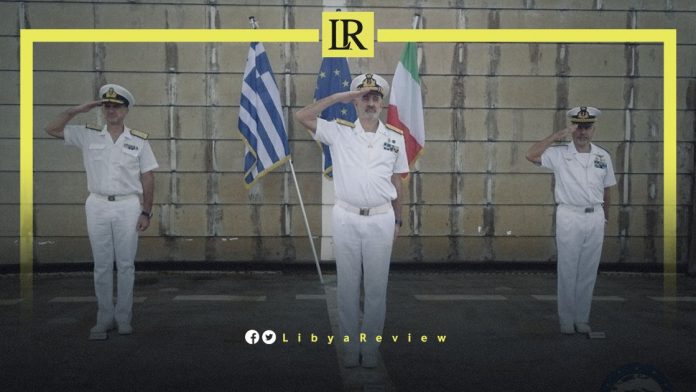 The EU's Operation IRINI announced that Italy's Rear Admiral Fabrizio Rutteri has handed over his duties to Greek Rear Admiral Stylianos Dimopoulos.
The ceremony, which took place on 1 October at the Taranto Naval Base, was attended by the Italian commander of the IRINI operation, Rear Admiral Stefano Turchetto.
The 'Aegeon' frigate took over the duties of the Italian frigate, 'ITS LIBECCIO' with an on-board operational staff in support of the commander, staffed by Greeks.
The statement explained that during the last six months, Greek Captain-in-Chief, Stylianos Dimopoulos performed duties as a dispatcher for IRINI in Rome.
The operation, which is valid until 31 March 2023, main objective is the implementation of the arms embargo in Libya, as set out by a UN Security Council resolution.
Secondary tasks include contributing to the implementation of UN measures to prevent the illegal export of oil from Libya, disrupt human trafficking networks, capacity building, and training the Libyan Coast Guard and Navy.
In August, IRINI's media office announced that a ship carrying weapons from Jordan, was stopped off the coast of Libya.
Operation IRINI naval and air forces inspected the 'Mv Victory Roro' on 18 July, off the Libyan coast. The Equatorial Guinean-flagged ship was carrying vehicles modified for military use, some of which were equipped with weapon mounts, armoured shields, and ammunition boxes.
It was en route from the Jordanian port of Aqaba, and heading to Libya. The ship was stopped when it entered IRINI's naval aircraft area of operations.
IRINI personnel "decided to board the ship in accordance with Security Council resolution 2292, and subsequent resolutions." This decision, "was based on the assessment that there were reasonable grounds to believe that MV Victory Roro was involved in a violation of the United Nations arms embargo against Libya".
The operation subsequently submitted an initial report to the UN Sanctions Committee, and the ship was taken to Marseille, through the Strait of Sicily, to unload its cargo. On 2 August, the ship left the port of Marseille to resume its commercial activities.