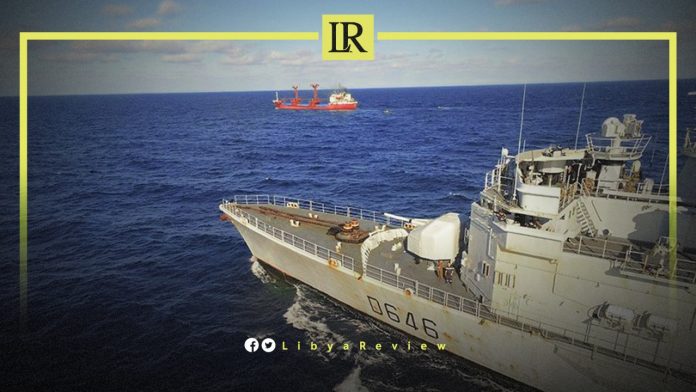 Italy Admiral Fabrizio Rotteri took over commanding the workforce of operation EUNAVFOR MED IRINI (commonly known as IRINI). Rotteri took over from Greek Major General Admiral Michael Magkos.
In statements to the Italy Nova Agency, IRINI's Operation Commander, Stefano Torchetto, said that "in addition to being the only international actor dedicated to upholding United Nations (UN) resolutions on the arms embargo imposed on Libya, IRINI's mission represents a vital tool for Europe to monitor and support to combat illegal activity in the region."
Italy and Greece alternate the command of the force every six months. Rotteri will be on board the Italian frigate Grecale, which he previously commanded between 2010 and 2011.
It is reported that IRINI began its missions on March 31st, 2020, in order to monitor the implementation of the UN arms embargo on Libya.
On Thursday, Admiral Stefano Turchetto said that he is currently conducting a study to make the measures to combat oil smuggling in Libya more decisive.
In an interview with the Italy news agency, Nova, Turchetto stressed, "in this particularly turbulent political phase in Libya, where two competing political parties are battling for power, the control of any illegal exports of crude oil becomes critical."
He added that the non-passage of its revenues via the National Oil Corporation (NOC) may fuel instability in Libya, leading to an increase in human trafficking. As well as arms smuggling to opposition factions, threatening the fragile ceasefire in place.
He confirmed how important the current operation is, given the volatile state of Libyan politics.
Admiral Turchetto said that IRINI was not only created to bring stability to Libya and the Mediterranean, but to the wider Sahel and Sub-Saharan region. "Operation IRINI is currently one of the EU's most important tools in helping stabilize Libya. It is there to implement the resolution from the UN Security Council."
Part of the mission is also to monitor migration from the Sahel region to Libya, and onwards to Europe. Another part prevents any potential illegal oil exports, which could fuel instability. Unrest in Libya, according to the Italy General "also creates the conditions for human trafficking and arms smuggling. As warring factions try to gain an advantage, and an income in order to fight their wars."
"The situation in Libya is very tense," he told Nova news. "Libyan security is tightly connected with the security situation in the Sahel and vice versa. So IRINI's work in stopping trafficking operations can have reverberations a long way from the Mediterranean, where the mission mostly operates."