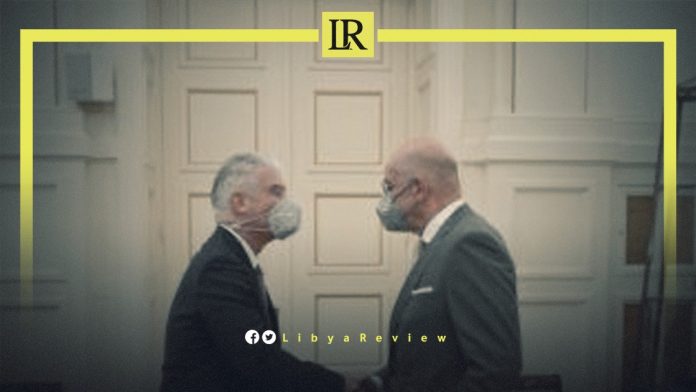 Developments in Libya, especially with regard to the latest maritime energy exploration deal signed with Turkey, were the focus of talks between Greece's Foreign Minister, Nikos Dendias and German Ambassador, Ernst Reichel.
The German Foreign Ministry Spokesman, Christopher Burger said Greece is "not bound by any agreement that is made by two other parties at its expense." This was in reference to the controversial Turkish-Libyan energy deal signed on 3 October.
During the meeting, Greece's FM claimed that they had "sovereign rights in the area" which it intends to "defend with all legal means, in full respect of the international law of the sea".
Notably, Dendias and his Egyptian counterpart, Sameh Shoukry discussed the legitimacy of the recently signed Turkish-Libyan memorandum of understanding.
The two sides confirmed that the "Government of National Unity's (GNU) mandate has ended, and it does not have the authority to conclude any international agreements," the Egyptian Foreign Ministry said in a statement.
Greece's FM posted on Twitter about his phone call with Shoukry, saying both sides challenged the "legitimacy of the Libyan GNU to sign the said MoU," and that he will visit Cairo for consultations on Sunday.
The Greek Foreign Ministry stated: "Any action or reference in the implementation of said 'memorandum' will be de facto illegal, and -depending on its gravity- will carry a reaction both at the bilateral level and at the level of the European Union and NATO."
The deal was rejected by Libya's rival administration based in the country's east. Libya's eastern-based Parliament, which backs the rival administration has also rejected the deal.
Parliament Speaker, Ageela Saleh said the agreement was "illegal because it was signed by a government that had no mandate."
The political stalemate has thwarted efforts to hold national elections, and threatens to plunge the country back into conflict.
The exploration deal came at the height of a year-long battle between the two rival governments vying for control of Libya's capital.
Dozens of armed groups and mercenaries have been struggling for influence as well, backed by several foreign powers.
Violence has regularly escalated between militias in western Libya. In August, clashes in Tripoli killed more than 30 people — one of the deadliest bouts of fighting in recent years.