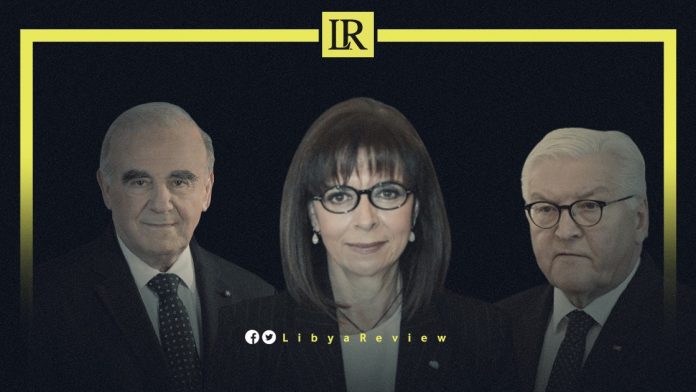 Maltese President, George Vella held separate talks with Greek President, Katerina Sakellaropoulou and his German counterpart, Frank-Walter Steinmeier regarding the latest developments in the Mediterranean, the migrant and Libyan Crisis.
During his meeting with Sakellaropoulou, Vella implicitly referred to the memorandum of understanding signed between the Government of National Unity (GNU), and Ankara on energy exploration in the Mediterranean. He stressed that "international law is the only viable means to resolve border disputes in the eastern Mediterranean."
According to Maltese media, the two leaders also discussed the instability prevailing in Libya. As well as limiting irregular migration that originates in sub-Saharan Africa, and departs from the Libyan coast. They stressed the need to strike a balance between solidarity and responsibility. Sakellaropoulou referred to the tragic drownings that occurred the previous day off the islands of Lesbos and Cythera.
During his talks with Steinmeier, Vella exchanged views on the situation in Ukraine, and the developments in the Mediterranean, especially in Libya.
Last Monday, the GNU and Turkey signed a memorandum of understanding on the exploitation of Libyan gas and hydrocarbons.
This came during an official visit by a high-ranking Turkish delegation to Libya. This included Turkish Foreign Minister; Mevlut Cavusoglu, Defense Minister; Hulusi Akar, Energy and Natural Resources Minister; Fatih Donmez, Trade Minister; Mehmet Mus, Communications Director; Fahrettin Altun and Presidential Spokesperson; Ibrahim Kalin.
Notably, the German Foreign Ministry Spokesman, Christopher Burger said Greece is "not bound by any agreement that is made by two other parties at its expense." This was in reference to the controversial Turkish-Libyan energy deal signed on 3 October.