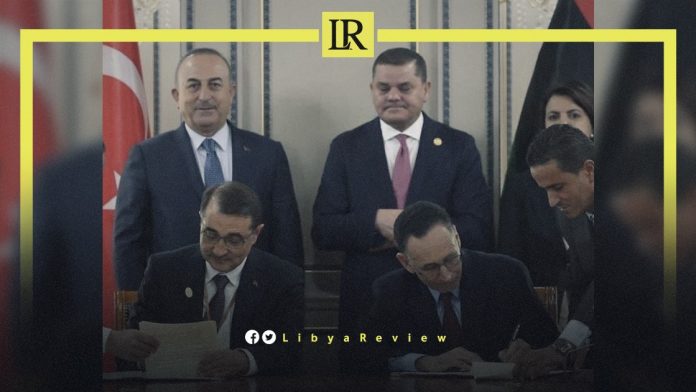 Member of the Libyan Political Dialogue Forum (LPDF), Amal Bugaighis confirmed that the Libyan Administrative Judiciary will issue a ruling to cancel the recent memorandum of understanding with Turkey.
"Pacta sunt servanda, and this is implemented on all agreements. After the Geneva roadmap was issued, in which the tasks of the executive authority were defined, the door was opened to accept the lists of candidacies for the government, and among these lists was Dbaiba's List. This implies acceptance of everything that was stated in the roadmap. As well as the limits of the powers granted to the government, including the obligation not to conclude any international agreements that result in long-term commitments on Libya," Bugaighis said.
"The Dbaiba government has violated the terms of its mandate," the LPDF member stated. "Without a doubt, the Libyan Administrative Judiciary will have the final verdict to cancel the decision of the memorandum, regarding the exploration of hydrocarbons between Libya and Turkey."
Notably, the Tripoli-based Dbaiba government signed a series of preliminary economic agreements with Turkey last week, that included potential energy exploration in maritime areas. A move that angered the country's rival administration, and Turkey's regional rival Greece, which denounced them as "illegal."
The controversial deals signal a renewed alignment by Dbaiba with Ankara. This comes amid repeated international calls for elections to resolve the country's political divide.
Practically, the new agreement will open up more areas for Turkey to explore for hydrocarbons in the Mediterranean. Especially in areas that Greece and Cyprus stress as belonging to them.
Turkey has gained great weight with the ruling forces in western Libya since its military support for the previous Government of National Accord (GNA) in 2019.
In turn, the Libyan Parliament rejected the deal, saying that the government's "mandate has ended and it has no longer a legal authorization to broker any international deals."
The Parliament added that the "signing of the agreement with Turkey is illegal, and not binding for the Libyan state, as it was signed by a non-eligible party."