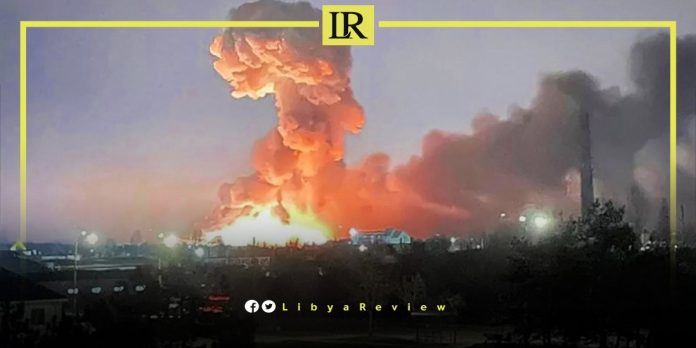 The Libyan Embassy in Kyiv warned its citizens after a series of missiles struck the capital on Monday morning. The Embassy said in a statement that "heavy" missile strikes hit several cities, including Lviv, Poltava, Dnipro, and others.
It also urged Libyan students present in those areas to "be careful and to communicate with the embassy in the event of any circumstance." The embassy concluded its statement, wishing everyone's safety.
Notably, in March, the committee to repatriate Libyan nationals stranded in Ukraine concluded its work. The committee said that it "absolves itself of responsibility for any consequences that may result from the desire of some citizens to remain inside Ukraine, or neighbouring countries with this announcement."
On 25 February, the Libyan Embassy began evacuation procedures. The committee supervising the departure of citizens has allocated special gathering locations to start the repatriation process.
It was determined that Libyan citizens in eastern Ukrainian cities would move to the capital, Kyiv, and from there to the Slovak border. For the nearby cities, west of Kyiv, the meeting point is the city of Chorte Kyiv.
The Libyan Foreign Ministry said it has evacuated over 1,500 citizens from Ukraine, amid Russia's military assault on the country.
The ministry said in a statement that they are in "full coordination" with the Libyan Embassy in Ukraine. Nationals were evacuated from Kyiv, Odesa, Kharkiv, and Sumy. The statement added that the evacuations were made via Ukraine's neighbouring countries Poland, Slovakia, and Romania.
On 2 March, the Charge d'Affairs of the Libyan Embassy, Adel Bin Issa stated that more than 1,500 Libyan nationals, who were stuck in Ukraine, have managed to cross the borders.
"The number of stranded Libyans who crossed the European borders (Slovakia, Poland, and Romania) through the Embassy, or on their own until today has exceeded 1,500 citizens, and they are in good health," Bin Issa added.
Bin Issa said the Libyan Embassy in Ukraine has been temporarily moved from Kyiv, to the western city of Lviv, near the Polish border. He added that the move was a result of the military operations, and the deterioration of the situation in Kyiv.
Libya's Foreign Ministry had previously advised citizens residing in Ukraine to leave.