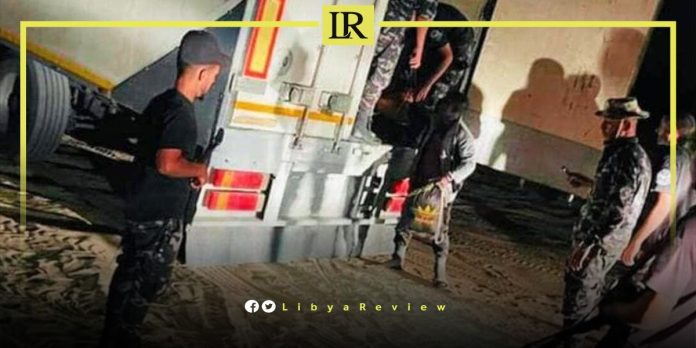 Libyan security forces found migrants freezing in the cold, after smugglers hid them inside a refrigerator truck. This took place as they attempted to reach the western coast of Libya, before setting out towards Europe.
In a statement, the General Department of Security Operations said that it had thwarted an attempt to smuggle a group of migrants.
All legal measures were taken against the migrants, in the presence of a member of the Migration Prosecution, and a case file was opened. They were then referred to the Anti-Illegal Migration Authority in Tripoli.
On Friday, the Libyan Red Crescent said in a statement that rescue workers have recovered 15 bodies found on the coast in Sabratha. These included a number of migrants bodies that were burned inside a boat, and others on the beach.
A security source in Sabratha told Reuters that the bodies were migrants caught in a dispute between two rival human traffickers in the city, a major hub for illegal migration across the Mediterranean.
The Red Crescent added that all of the migrant bodies were recovered and placed in the hospital fridges to complete the legal procedures.
Libya has been suffering insecurity and chaos since the fall of the late leader Muammar Gaddafi in 2011.
The United Nations High Commissioner for Refugees (UNHCR), Filippo Grandi stated that "People who arrive in Europe, through Libya, often come from the Horn of Africa and the Sahel."
According to Ouest-France newspaper, Grandi added that these two areas are of great concern to him. "These are humanitarian crises, which have a strong dimension of forced displacement, conflict and the impact of climate change. It all adds up and it creates very complex crises."
"This also shows that if we do not manage to resolve the root causes of these crises, we will always have more of this movement towards the rich countries. It's inevitable," he said.