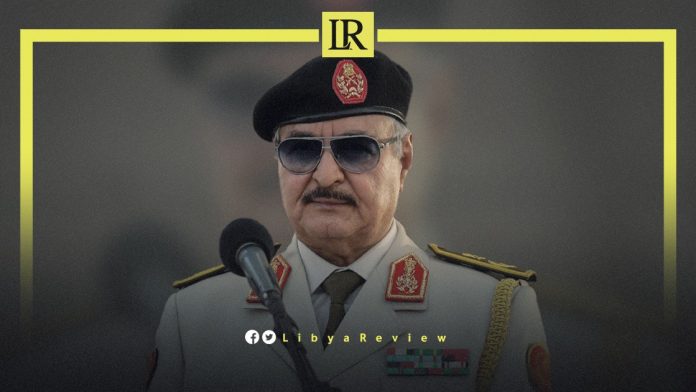 The Commander-in-Chief of the Libyan National Army (LNA), Field Marshal Khalifa Haftar, said, "whoever defeated terrorism will defeat corruption, defeat poverty and backwardness, and build a secure and stable state."
Haftar gave a speech in Benghazi on the occasion of the eighth anniversary of the LNA's entry into the city.
Haftar added that Benghazi "is difficult to be targeted by terrorism, as terrorism tried to make the city a room for its operations, but today it has become the capital of security, stability, vitality and activity."
Haftar saluted those he called "the heroes of the epic of dignity and everyone who fought to eliminate terrorism in the city, and gave it support and assistance, without whom Benghazi would not be what it is now."
Last month, Haftar called on the Libyan people to take control of their affairs, as the country's political deadlock remains ongoing.
"The political leaders have had many opportunities to agree to end the political deadlock… but they failed," he said in a speech during a visit to the southern town of Brak Al-Shati. "We call on the Libyan people to take control of their affairs and move to build a civil state based on freedom, justice, and equality," Haftar added.
He stressed that the LNA "exerted all efforts over the years to achieve reconciliation and a comprehensive settlement." He also described the majority of political leaders in Libya as, "symbols of corruption."
Earlier, Haftar said, "we are racing against time in search of a way out of the crisis, through reunification and reconciliation."
During his visit to the southwestern town of Ghat, he noted that, "the national interest motivates us to unite our ranks, and enhance confidence to face Libya's challenges."
"The people are the source of authority, and the current situation will not change by relying on politicians or foreign intervention. The army's victories against terrorism were aimed at paving the way for other battles, to build the state and determine our fate. It is the people's turn to lead the battle of change against the conspirators and corrupt people to get out of the dark tunnel," he added.