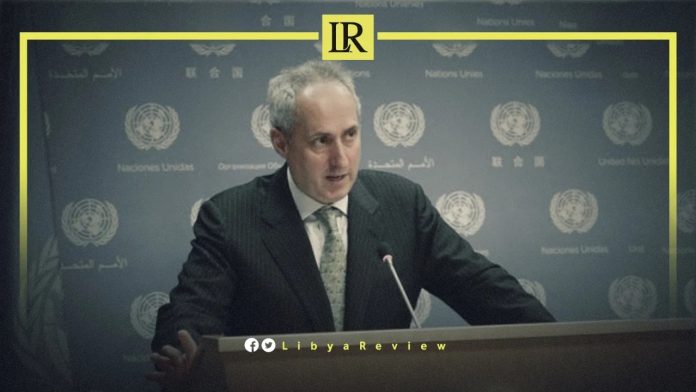 Spokesman for the UN Secretary-General, Stéphane Dujarric confirmed that the new UN Envoy to Libya, Abdoulaye Bathily's "highest priority is to support defining a consensual path towards fair and comprehensive elections, as soon as possible."
In Press Briefing, Dujarric said: "On Libya, which we haven't talked about in a while, I want to tell you that our Special Representative for Libya, Abdoulaye Bathily, arrived at the end of last week in Tripoli."
"Following his arrival, he met with the Presidential Council leadership, Prime Minister of the Government of National Unity (GNU), Abdel-Hamid Dbaiba, and Speaker of the Libyan Parliament Ageela Saleh. Previously, Foreign Minister, Najla Mangoush welcomed him to the country via a telephone call, as she was away from the country," he added.
Dujarric pointed out that the different Libyan stakeholders welcomed Bathily, and expressed their readiness to work with him to find a political solution to the conflict.
He explained that Bathily relayed to his Libyan interlocutors that the UN mission's top priority remains supporting elections, and to "ensure a Libyan-owned and Libyan-led solution to the crisis."
"Over the next few weeks, Mr. Bathily plans to consult with a wide range of stakeholders, including civil society, women, and youth groups from across Libya."
On Monday, Saleh held a meeting with Bathily in Al-Qubba city.
They discussed the latest political developments, and ways to end the current crisis.
Bathily reiterated his keenness to help restore stability to Libya, "in a way that helps it to restore its regional balance and maintain its peace and security."
On Sunday, Bathily met with the Head of the Presidential Council, Mohamed Al-Mnifi, and Prime Minister, Abdel-Hamid Dbaiba in Tripoli.
He stressed that he will lead the United Nations' good offices and mediation efforts to reach a sustainable and peaceful Libyan-led and Libyan-owned solution. As well as noting that the UN remains committed to supporting Libya in holding inclusive Presidential and Parliamentary elections. "The will of the millions of Libyan people who registered to vote should be respected," he concluded.
The UN Envoy will also conduct meetings with the High Council of State (HCS), and a number of political parties and NGO's.